Andrew Garfield On 'The Amazing Spider-Man 4': "That's Not Anything To Do With Me"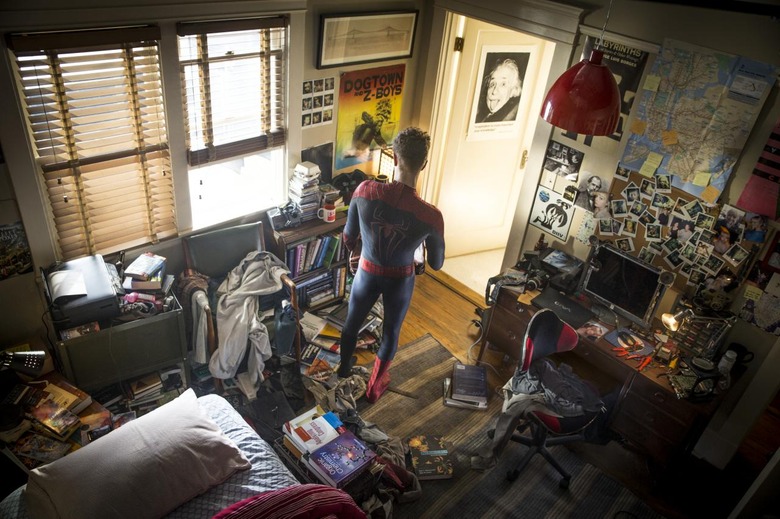 Sony's The Amazing Spider-Man franchise currently rests on the strong shoulders of its star, 30-year-old Andrew Garfield. But that may not be the case by the time by the time 2018 rolls around.
Although Garfield is contracted to appear up through The Amazing Spider-Man 3, which hits in 2016, he says he's not signed for The Amazing Spider-Man 4, which is due out two years later. Does this mean another new Peter Parker could be coming up on the horizon? Hit the jump to read Garfield's comments.
While it was assumed from the beginning that The Amazing Spider-Man would launch a trilogy, if all went well, the announcement of The Amazing Spider-Man 4 took us by surprise. Indeed, director Marc Webb admits in the same video interview that "we did think about these movies from the very beginning as a series of movies... Really a trilogy, to be totally frank."
What exactly Sony has in store for the fourth movie remains a mystery. However, those in charge have hinted that they'd like to expand the Spideyverse by making The Amazing Spider-Man 4 "not just a Spider-Man movie," and instead placing a greater focus on "new heroes and villains."
Even so, it'd be odd to have Spider-Man-adjacent plotlines with no Spider-Man at all. We can only imagine that Sony is either working on renewing their contract with Garfield, or, failing that, looking for other young up-and-comers who could slip into the spider-suit.
In the meantime, Garfield claims that next year's The Amazing Spider-Man 2 will be quite a treat. "I was crying. I was welled up. I'm an easy crier, but I was really emotionally moved," he said of his initial meeting with writers Roberto Orci and Alex Kurtzman.
"I think there was something that we were missing in the first one because our focus wasn't on character so much," Garfield acknowledged. "It was on trying to keep a number of plates spinning in the air." In contrast, with The Amazing Spider-Man 2, "We've established the world and now we get to play inside that world and use our imagination and kind of expand."
The Amazing Spider-Man 2 opens May 2, 2014, followed by The Amazing Spider-Man 3 on June 10, 2016 and The Amazing Spider-Man 4 on May 4, 2018.