'Bad Words' Red-Band Trailer: Jason Bateman Is A Total Jerk To Kids And Parents Alike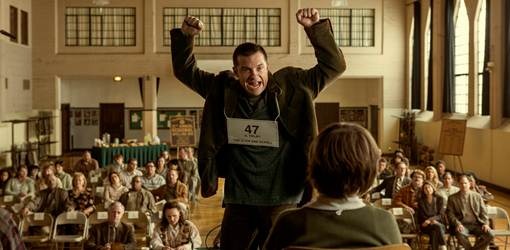 Jason Bateman makes his feature directorial debut with the comedy Bad Words, about a guy (played by Bateman) who hijacks a national spelling bee. How does that happen, exactly? The red-band trailer below will show you a bit, just as it'll let you know how the supporting cast such as Rohan Chand (Homeland), Kathryn Hahn (We're the Millers), Ben Falcone (Bridesmaids), Philip Baker Hall (Argo), and Allison Janney (The Help) factor in.
The language in this one really isn't for work; this teaser makes the Bad Grandpa red-band stuff sound positively tame.
It's good to see Bateman go into full-on bad guy mode for a while. We're so familiar with him as the nice, put-upon guy that it's really refreshing to see him be a total dick for a while.
Bad Words opens in March 2014. Andrew Dodge scripted.
Jason Bateman (Identity Thief) makes his feature directorial debut with the subversive comedy Bad Words. Mr. Bateman stars as Guy Trilby, a 40-year-old who finds a loophole in the rules of The Golden Quill national spelling bee and decides to cause trouble by hijacking the competition. Contest officials, outraged parents, and overly ambitious 8th graders are no match for Guy, as he ruthlessly crushes their dreams of victory and fame. As a reporter (Kathryn Hahn of We're the Millers) attempts to discover his true motivation, Guy finds himself forging an unlikely alliance with a competitor: awkward 10-year-old Chaitanya (Rohan Chand of Homeland), who is completely unfazed by Guy's take-no-prisoners approach to life.