Ridley Scott Jumping On YA Bandwagon, Producing 'Fae'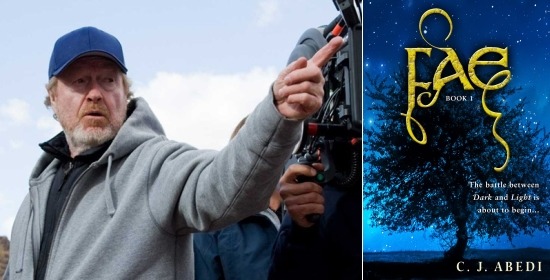 Just as no young male actor seems to get anywhere these days without toplining his own comic book franchise, few directors at the moment seem immune to the allure of YA adaptations. The latest to jump on the angsty-teen wagon is Ridley Scott, who's just optioned the fantasy novel Fae. Hit the jump for more details on the story.
Written by sisters Colet and Jasmine Abedi, Fae centers around Caroline Ellis, whose sixteenth birthday sparks a long-prophecied battle between the Light and Dark Fae. The only person who can help her is Devilyn Reilly, the only Fae who has roots in both Light and Dark.
Fae was released last summer and is, naturally, intended as the first in a trilogy. If the movie does well, then, Scott could get a good three or four movies out of this. (Or nine if he pulls a Peter Jackson, I guess.) The Abedis have already completed the second book, The Dark King, but it doesn't seem to have a release date yet.
YA adaptations are so hot right now, thanks to the gobsmacking successes of franchises like Harry Potter, Twilight, and The Hunger Games. However, a bestselling teen title is no guarantee of a hit. The box office is littered with YA franchises that didn't quite make it — your Beautiful Creatureses, your Golden Compasses. Let's hope for Scott's sake that Fae is one of the few that actually takes off.
Here's the official synopsis:
The battle between Light and Dark is about to begin.
Caroline Ellis' sixteenth birthday sets into motion a series of events that have been fated for centuries. A descendant of Virginia Dare, the first child born in the lost colony of Roanoke, and unaware of her birthright as the heir to the throne of the Light Fae, it isn't until Caroline begins a tumultuous relationship with Devilyn Reilly that the truth of her heritage is revealed.
Devilyn is the only Fae who is both of the Light and of the Dark, and struggles to maintain that precarious balance to avoid succumbing to the power of the Dark within him. He is the only one who can save Caroline from those who would destroy her and destroy all hope for unity among the Fae. He promises Caroline that he will protect her at all costs, even when it means protecting her from himself.
Told from the alternating perspectives of Caroline and Devilyn, FAE draws on mysteries, myths and legends to create a world, and a romance, dangerously poised between Light and Dark.
And here's the book trailer, which is depressingly Twilight-esque. Seriously, you could use this monologue to sell Twilight without changing a single word.