'Edge Of Tomorrow' Viral Campaign Reveals New Pics; Trailer Coming Wednesday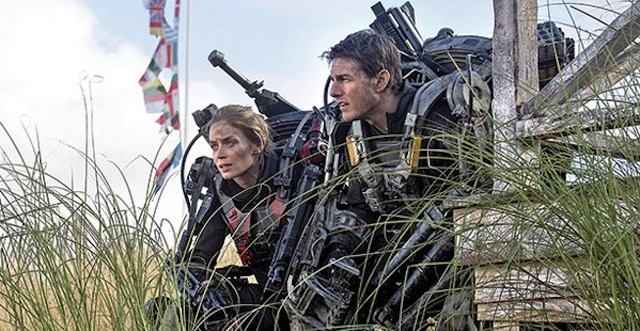 We haven't heard much from Doug Liman's Edge of Tomorrow since we got our first glimpse of footage at Comic-Con, but that's changing in a big way this week. In advance of the sci-fi thriller's first trailer release on Wednesday, Warner Bros. has launched a nifty viral campaign, and several images to go along with it.
Based on a graphic novel by Hiroshi Sakurazaka, the film centers Lt. Col. Bill Cage (Tom Cruise), who despite his lack of combat training is thrust into the middle of a war against an alien race. He dies quickly, but gets caught in a time loop that forces him to relive that same battle over and over. Emily Blunt stars as another soldier. See the new pics after the jump.
@BigBadBadWolf 12/8 08:05 GMT From UDF PVT: 10k UDF soldiers against millions of invaders? How can we win? We need more soldiers.

— Embedded UDF (@EmbeddedUDF) December 8, 2013
@FrogPrince_12 12/8 09:32 GMT From a UDF General: Our scouts said they were a day away! We thought tomorrow! How did they surprise us?

— Embedded UDF (@EmbeddedUDF) December 8, 2013
@prapanch, What do you think? The Europeans are hopelessly over-matched. Should the Americans join the war?

— Embedded UDF (@EmbeddedUDF) December 8, 2013
On the bright side, this skirmish has yielded a new batch of images from the movie. They're pretty exciting, if a bit video game-y.
Lest you think these updates are real, @EmbeddedUDF dropped character briefly to reveal what these frantic messages are really about.
@KingGrislyBeard Reply tweet MORE if you want the EDGE OF TOMORROW war feed to continue. Trailer coming 12-11.

— Embedded UDF (@EmbeddedUDF) December 9, 2013
Look for the trailer here later this week. Edge of Tomorrow opens June 6, 2014.
The epic action of "Edge of Tomorrow" unfolds in a near future in which an alien race has hit the Earth in an unrelenting assault, unbeatable by any military unit in the world.
Lt. Col. Bill Cage (Cruise) is an officer who has never seen a day of combat when he is unceremoniously dropped into what amounts to a suicide mission. Killed within minutes, Cage now finds himself inexplicably thrown into a time loop—forcing him to live out the same brutal combat over and over, fighting and dying again...and again.
But with each battle, Cage becomes able to engage the adversaries with increasing skill, alongside Special Forces warrior Rita Vrataski (Blunt). And, as Cage and Rita take the fight to the aliens, each repeated encounter gets them one step closer to defeating the enemy.