'Friday Night Lights' Movie Not Happening, Says Peter Berg [Updated]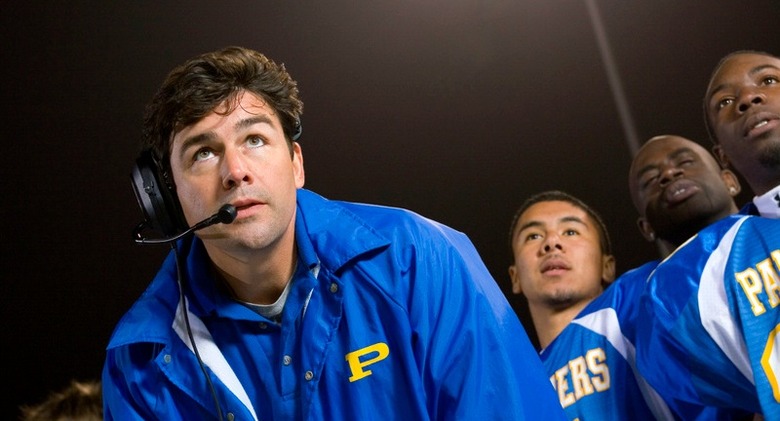 It's become de rigeur for any beloved show on its way out to tease the possibility of a movie sequel, and sometimes those promises even come true. Veronica Mars is headed to the big screen next year, for example, and Entourage is set to shoot next month. But don't expect Friday Night Lights to join them in theaters.
Since the football drama ended in 2011, certain cast and crew members have hinted repeatedly at a follow-up film — Peter Berg among them. Now, however, the producer is singing a different tune, saying that he doesn't think a movie is such a great idea after all. Read his comments after the jump.
[Update: Taylor Kitsch has weighed in on the movie idea. Hit the jump to see what he had to say.]
Berg first began floating the idea of a Friday Night Lights sequel in 2011, just a few months after the series concluded its fifth and final season on DirecTV. He's continued talking it up ever since, with support from several of his colleagues including producer Brian Grazer and stars Connie Britton and Adrianne Palicki.
However, one person who's remained steadfastly against the idea is Kyle Chandler. The actor told press last year that he uninterested in seeing the property continue on the silver screen. "[T]hey ended [the series] at exactly the right time, and exactly the right way as well," he said. He does not seem to have changed his mind since then; a couple of months ago, Britton reiterated that Chandler was the holdup.
At the time, it seemed feasible that Berg, Britton, and a really great script could still change Chandler's mind. But now that Berg's out as well, the odds of a Friday Night Lights movie happening look vanishingly slim.
Personally, I've been Team Chandler on this one — I don't think Friday Night Lights needs to mess with the perfect ending it already got. Nevertheless, the part of me that bleeds East Dillon red is still a bit bummed to know we'll see how things really turned out for Coach, Tami, and the rest of the gang.
Update: It seems Kitsch is anti-movie as well, and for similar reasons as Chandler. "I'll just say no," he said when asked whether he'd ever do a Friday Night Lights movie. "No, period. I'm not doing it. I'm never gonna be in that movie. There was already a movie! And the show ended fuckin' spot-on. We're good."