Spike Jonze's 'Her' Inspires Clothing Line For The Tech-Obsessed Romantic In Your Life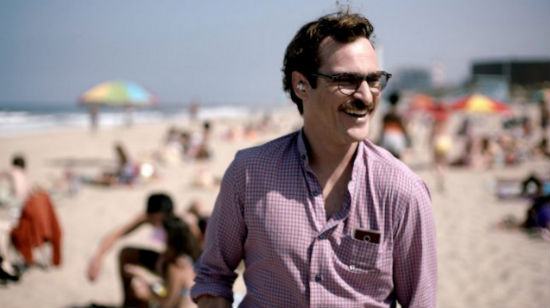 As depicted in Spike Jonze's Her, the future promises neither self-tying Nikes nor clear plastic skullcaps. Instead, we'll all be wearing soft, colorful basics, like Gap pieces with a few offbeat tweaks. But if you don't want to wait around for that future to come to pass, you can dress like a man in love with an operating system right now thanks to a new collection by Opening Ceremony.
Jonze and costume designer Casey Storm have teamed up with the clothing company to release a collection of outfits that echo the outfits worn in the movie — right down to the safety-pinned pockets, which are perfect for storing your digital girlfriend. Check 'em out after the jump.
In a nod to the world depicted in the movie, "every pocket is meant to perfectly fit a device, a tablet or an iPhone," said Opening Ceremony partner Humberto Leon. Other tech-friendly features include items that allow room for cords and headphone wires. Jonze also describes the collection as "romantic," because they're unisex clothes that "you can share with your boyfriend or girlfriend." Unless your boyfriend or girlfriend is a digital entity who doesn't actually exist in the physical space, that is.
This isn't the first time Jonze's unique vision has inspired Leon to launch a clothing collection. In 2009, his company put out a Where the Wild Things Are-themed line that included furry coats, pointy-eared sweatshirts, and the like.
See a few pieces from the Her collection below, and head to OpeningCeremony.com to read Leon's interview with Jonze.