Hugh Jackman Says He Isn't Sold On 'The Wolverine' Sequel Yet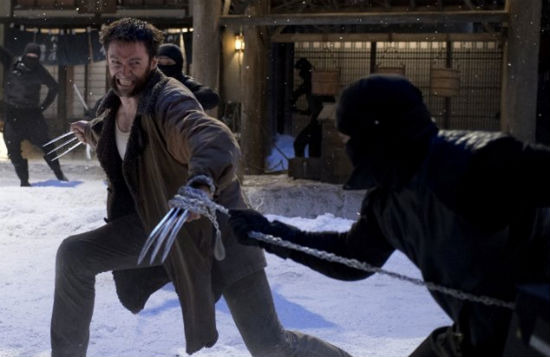 Things are ever-changing in the X-Men movie universe at 20th Century Fox. First, it was revealed James Mangold is developing a sequel to this year's hit The Wolverine. Next, Bryan Singer revealed a sixth X-Men film is in the works for 2016, just as Simon Kinberg officially came on board to further develop the franchise. All that seems very encouraging except one of the biggest pieces isn't 100% sold yet: Hugh Jackman.
In a recent interview, Jackman admitted he's "excited" to develop the new Wolverine film but his expectations are so high, if the script doesn't meet them, he won't do it. Read his quote below.
The quote came from Vanity Fair (via Superhero Hype). Jackman was asked about The Wolverine sequel (not X-Men: Apocalypse, as this interview took place before that announcement). Here's his answer:
I don't know whether or not I will do this next movie. I am really proud of this movie and I am excited to develop something with Jim Mangold from the beginning because that is a great ride. That's exciting, to see what we come up with but I have a very high expectation of what it would need to be [for me to star in it] and if it doesn't reach those, I won't be doing it.
Jackman then offered his own update on the film:
No there is not [a script] but Jim Mangold and I were literally on the phone last night talking about ideas. But there is no script and no writer yet so it's a way off.
That's pretty interesting considering how much Mangold is out there talking about the film. Jackman himself said he thought there were "really cool ideas" being discussed. Plus the initial news report said Mangold was "in talks" to write the treatment, so maybe that hasn't been set yet. Very interesting.
However, let's be honest here. This kind of hesitation is the case for any movie. If the script isn't good enough, no one is going to make the movie, including the lead actor. You'd like to think – though it's not always true – a studio won't move forward with something unless its ready. That's all Jackman is saying here. He's not going to jump on board without a story he's passionate about just because Wolverine movies make money. He and Mangold simply have yet to crack the story in a way that justifies moving forward with a screenplay. This is common.
To me, the more interesting take away from this quote is the progress on this sequel. With X-Men: Apocalypse already dated for May 2016, it now seems likely that'll be the next X-Men movie following 2014's X-Men: Days of Future Past, a film in which Jackman plays a huge role. Wolverine can't die easily so you'd have to assume he'll factor into Apocalypse, too. Is Jackman sold on that script? I guess we'll have to wait and find out.