'Nurse 3D' Trailer: "My Schedule's Been Murder"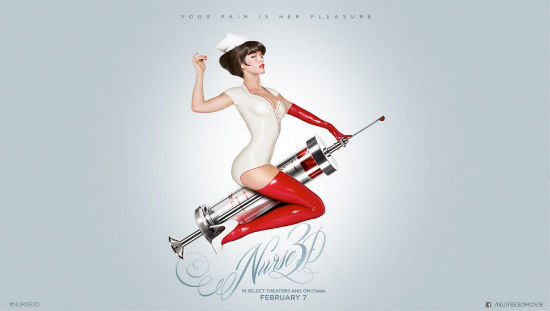 More than two years have passed since we caught our first glimpse at a sultry and bloody Paz De La Huerta in Nurse 3D. The production company released a poster before production even began, promising a 2012 release. Well it's almost 2014 and there's still been no sign of the film, directed by Douglas Aarniokoski. Until today.
A trailer for Nurse 3D is now online and features turns from Katrina Bowden, Corbin Bleu, Judd Nelson and even Kathleen Turner. It follows an obsessive nurse who starts killing people while skimpily dressed, and it opens February 7, 2014.
Head to Apple to see the trailer in HD. Here's an embed.
And here's the official description:
Paz de la Huerta (HBO's "Boardwalk Empire") turns up the body heat in this wickedly entertaining story of a fatal attraction. By day, nurse Abby Russell (de la Huerta) lovingly attends to the patients at All Saints Memorial Hospital; by night, Abby prowls nightclubs, luring unfaithful men into dangerous liaisons. After Danni, a young, sensitive nurse, joins the hospital staff, Abby pursues her friendship. But when the friendship turns to obsession, Danni spurns Abby, unleashing Abby's fury and a rampage of terror.
I think that trailer looks pretty bad but, maybe it'll be fun right? Right? Anyone? I guess we'll find out in the new year.