Kevin Hart To Write And Co-Star In 'Ballers' With Lebron James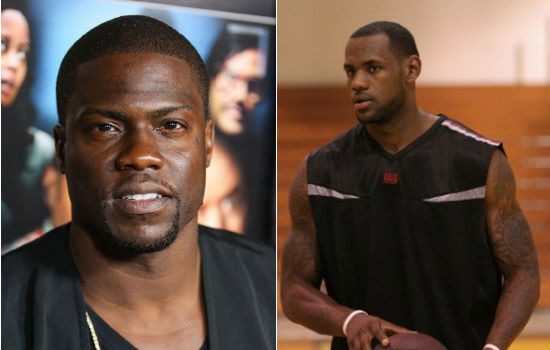 NBA superstar Lebron James has been attempting to make his big screen debut since 2009. That's when the reigning MVP first signed on to do a film called Fantasy Basketball Camp, however years have passed with little movement. Now there's a major update that might finally get James into theaters. Comedian Kevin Hart has signed to co-write and eventually co-star in the film, which has been renamed Ballers. Brian Grazer will co-produce for Universal.
Deadline broke the news of the deal. Hart will co-write with Joey Wells, Chris Spencer and Harry Ratchford and once that's done, a director will be attached. They'll shoot in the summer, when James and his Miami Heat are on vacation.
The plot of Ballers sees James and Hart's characters as brothers. One is a superstar basketball player and the other always lives in his shadow. One day, the smaller brother becomes a superstar of his own at a fantasy basketball camp. It's a very odd logline and I wouldn't be surprised if it changed after Hart has his way with it.
James is a charismatic guy but huge global sports popularity doesn't necessarily equate success in Hollywood. Both Michael Jordan and Shaquille O'Neal made the transition while they were playing ball, with only one out of their handful of films, Space Jam, achieving any real success. (Though I'll always be a fan of Blue Chips.)
Also, I have to take this opportunity to recommend More Than A Game, a fantastic documentary about James' high school career. Great movie.
Do you think James teaming with Hart is a smart move?