Michael Bay Praises Upcoming 'Transformers' While Criticizing Previous 'Transformers,' Again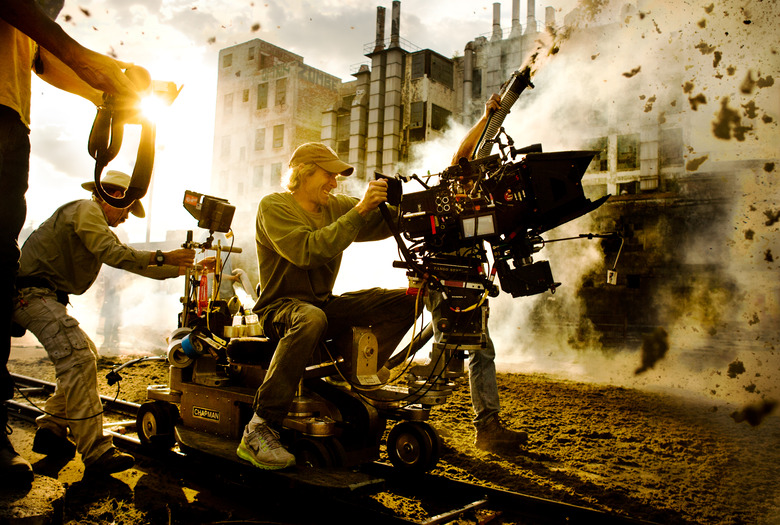 Michael Bay, once again, is his own worst critic.
In 2011, the action director used the word "crap" to describe the mystical storyline of Transformers: Revenge of the Fallen. (Read the full quote here.) At the time, he was confident the third film, Transformers: Dark of the Moon, would be better. Fast forward to 2013 and, discussing the upcoming fourth Transformers installment, Transformers: Age of Extinction, Bay has once again criticized his previous work, this time saying the third film was "a bit too goofy."
The full quote come from an set visit done by Yahoo Movies:
I wanted the first Transformers to be very suburban and less cool. This is a much more cinematic one. I focused on keeping this one slick. There won't be any goofiness in this one. We went a bit too goofy [on the last one].
I feel like all three of the previous Transformers movies were pretty "slick" and "goofy" but if anyone is worthy of second guessing his own work, it's Bay. So if that's how he sees it, that's how he sees it and more power to him. This one reportedly has Dinobots, which seems like a pretty quick path to "goofy" if not done well.
From what we've heard of the human storyline in Transformers: Age of Extinction, the "cinematic" and "slick" will hopefully be coming from the Transformers themselves. The film focuses on an inventor (Mark Wahlberg) who doesn't want his daughter (Nicola Peltz) dating a race-car driver (Jack Reynor). That driver may have just gotten a brand new Camaro...named Bumblebee. That pseudo love triangle is all anyone will talk about plot wise, so we have no idea how the Autobots, Decepticons or Dinobots fit into the movie. For me, as a Transformers fan, that's always been the issue with Bay's version. They're about the humans instead of the robots. Hopefully this movie focuses on the robots. That's one surefire way to make the film more "cinematic." Another way is the IMAX 3D cameras he's using. We'll find out more in June 2014.
Do you think it's okay for Bay to say these things about his own movies?