'Terminator' Casting: Sarah Connor Could Either Be Emilia Clarke Or Brie Larson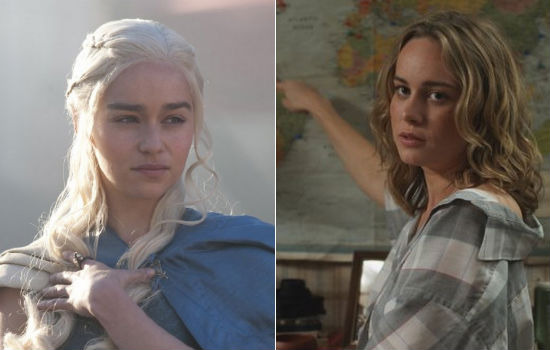 As films move and shift in and around that crazy 2015 release schedule, one that's methodically, quietly, and steadily moving forward like a killing machine is the Terminator reboot. Alan Taylor hasn't even officially been announced as the director, yet they're also very close to casting one of the film's leads: unsuspecting mother turned soldier Sarah Connor. Reports state Taylor and Paramount are now down to two actresses: Game of Thrones' Emilia Clarke or Short Term 12's Brie Larson. However, with Taylor's Game of Thrones roots, it seems Clarke might have the edge. 
Deadline wrote about this casting choice that is so important to the film. Despite Larson's rising star thanks to her Oscar-worthy performance in Short Term 12 and roles in Don Jon and The Spectacular Now, another reason Clarke might have the edge is her Game of Thrones role of Daenerys Targaryen shares many traits with Connor, meaning she's comfortable in that role and audiences already love her. However, Larson is so incredibly versatile, she'd be an amazing choice as well. Taylor is in a very good place right now if this is the choice he gets to make.
The article also states not only is Kyle Reese, Connor's love interest, a role in the film, so is her son, John Connor, which means it takes elements from both the James Cameron original and sequel. Whether or not John is a boy, or a man in the future, isn't yet clear, but multiple time lines and time travel are possibilities.
As for who is going to play the title character in this new reboot, which is slated to go at least two films? Yes, it's still Arnold Schwarzenegger.
Read more about the new Terminator film here and when any of this is made official, we'll be sure to let you know. The fifth Terminator film will be released July 1, 2015.