'Inside Llewyn Davis' UK Trailer: Oscar Isaac Plays A Folk Singer With A Cat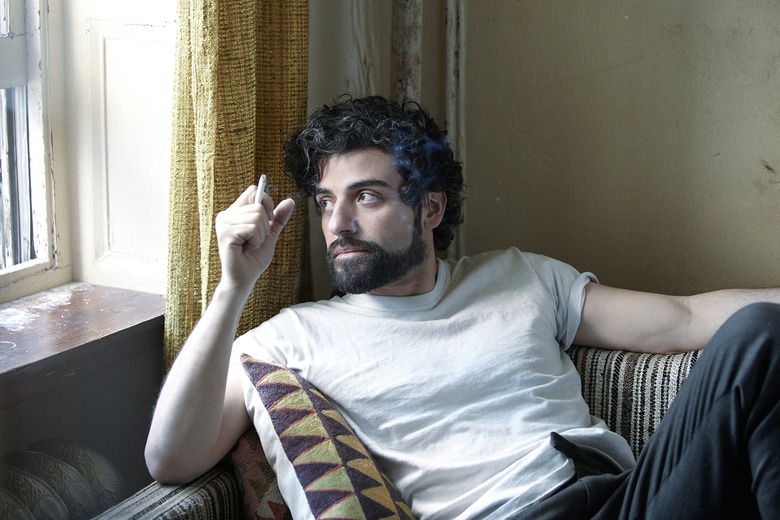 The Coen Brothers' Inside Llewyn Davis has earned strong buzz from the get-go, picking up the Grand Jury Prize shortly after its Cannes debut and earning Best Feature at the Gotham Independent Film Awards this past weekend. Now, after months of hype and even more months of marketing, it's finally about to arrive in theaters.
Oscar Isaac leads the drama as Llewyn, a singer trying to make his way around the folk scene in the early '60s. He's not having an easy go of it: his solo career isn't taking off, his best friend's girlfriend is pissed at him, and he doesn't even have a proper coat to keep him warm through the winter. But his misfortune is our good luck, as his many trials make for a pretty great film. Watch the newest U.K. trailer after the jump.
As strong as the supporting cast is — it includes Carey Mulligan, John Goodman, Garrett Hedlund, Justin Timberlake, and a really cute orange cat — Inside Llewyn Davis is really all about Isaac's performance. Though he's cropped up in plenty of films over the last several years, Inside Llewyn Davis is poised to be his true breakthrough. Several critics have singled out his work in the movie for special praise, and he's been nominated for acting prizes at the Gotham Awards and the Independent Spirit Awards.
Inside Llewyn Davis opens in select cities this weekend, and will roll out to other U.S. markets later this month. Unfortunately for our friends across the pond, it doesn't open in the U.K. until January 24.
INSIDE LLEWYN DAVIS follows a week in the life of a young folk singer as he navigates the Greenwich Village folk scene of 1961.
LLEWYN DAVIS (OSCAR ISAAC) is at a crossroads. Guitar in tow, huddled against the unforgiving New York winter, he is struggling to make it as a musician against seemingly insurmountable obstacles—some of them of his own making. Living at the mercy of both friends and strangers, scaring up what work he can find, Llewyn's misadventures take him from the baskethouses of the Village to an empty Chicago club—on an odyssey to audition for a music mogul—and back again.