'Dom Hemingway' Red-Band Trailer: Jude Law Has Anger Issues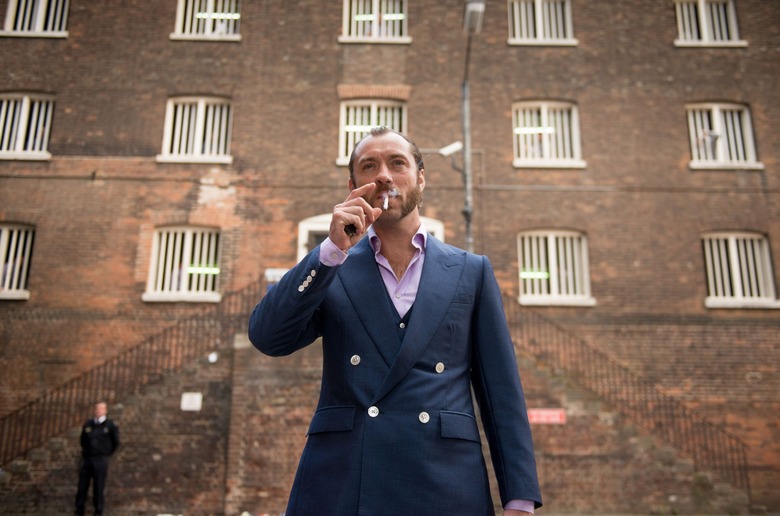 Jude Law is a pretty, pretty man, and (like many actors) he's enjoyed a long, healthy career in part by capitalizing on this fact. But in Dom Hemingway, he's nothing like the handsome, elegant presence we've come to expect. Instead, he looks bleary and bloated and altogether slimy, and his performance looks all the more entertaining for it.
Directed by Richard Shepard, the British crime dramedy stars Law as a loud, lewd safecracker just coming off of a twelve-year stint in prison. He reunites with his BFF (Richard E. Grant) to try to get his life back on track, which means trying to collect what he's owed from his boss (Demián Bichir) and mending his relationship with his daughter (Emilia Clarke). Check out the newest red-band trailer after the jump.

Dom Hemingway has received mixed reviews. Some critics have complained that it turns into an entirely different kind of movie in its second half, while others have sighed that the Brit gangster subgenre just feels tired at this point. But the trailer, at least, is loads of fun. Who knew Jude Law was just waiting for the right opportunity to unleash his crazy side? At least one guy even thinks this could be a career-best performance for the actor.Dom Hemingway has already opened in the U.K., but won't arrive in American theaters until April 4.
Jude Law plays DOM HEMINGWAY, a larger-than-life safecracker with a loose fuse who is funny, profane, and dangerous. After twelve years in prison, he sets off with his partner in crime Dickie (Richard E. Grant) looking to collect what he's owed for keeping his mouth shut and protecting his boss Mr. Fontaine (Demian Birchir). After a near death experience, Dom tries to re-connect with his estranged daughter (Emilia Clarke), but is soon drawn back into the only world he knows, looking to settle the ultimate debt.