'The Secret Life Of Walter Mitty' Six-Minute Trailer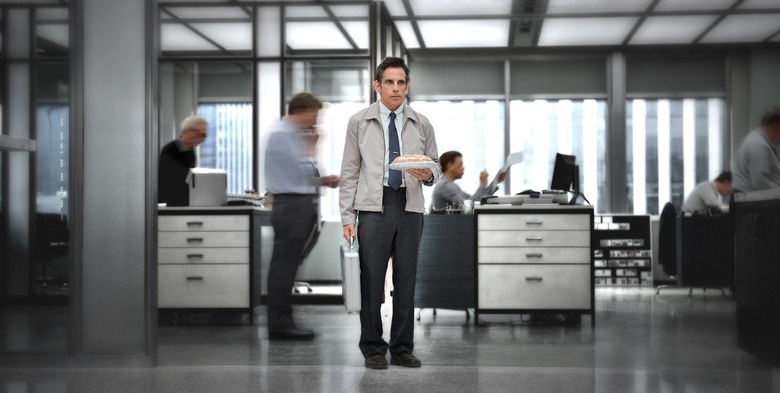 There have been no shortage of teasers, trailers, and clips for The Secret Life of Walter Mitty, Ben Stiller's latest directorial effort, but for the most part the footage has been revealed in brief one- or two-minute increments. Today, we have a brand-new trailer for the romantic adventure that clocks in at six minutes long.
Based on the 1939 short story by James Thurber and the 1947 movie inspired by same, Stiller's Walter Mitty follows a timid Life Magazine photo editor who constantly daydreams to escape his dull life. When his job is threatened, however, he sets out on an epic journey every bit as incredible as the elaborate fantasy sequences he's concocted in his head. Watch the latest promo after the jump.
The Secret Life of Walter Mitty premiered at the New York Film Festival earlier this year to mixed reviews. Approving critics described it as "a feature-length 'Just Do It' ad for restless middle-aged auds," with a winning "blend of surreal fantasy, droll comedy and poignancy."
On the flip side, Naysayers felt it was more like "if Akira Kurosawa's Ikiru were remade as an 114-minute Super Bowl commercial" thanks to its use of "hackneyed and mawkish methods to achieve a false sense of joyfulness." On the bright side, pretty much everyone agreed that it meant well, and looked great. If you're curious about our thoughts on the film, get Peter's and my reactions here.
The Secret Life of Walter Mitty opens December 25.
Ben Stiller directs and stars in THE SECRET LIFE OF WALTER MITTY, James Thurber's classic story of a daydreamer who escapes his anonymous life by disappearing into a world of fantasies filled with heroism, romance and action. When his job along with that of his co-worker (Kristen Wiig) are threatened, Walter takes action in the real world embarking on a global journey that turns into an adventure more extraordinary than anything he could have ever imagined.