David Goyer Developing Lower-Budget 'Suicide Squad', 'Team 7', And More For DC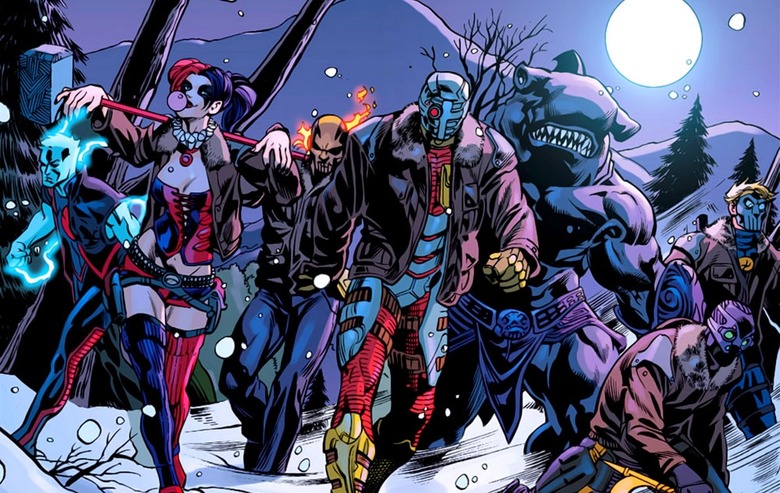 So far, Warner Bros.' DC Universe has focused mostly on big, iconic figures like Superman and Batman. But the DC Comics stable stretches far beyond the Justice League, and now the studio is looking to bring some lesser known properties to the silver screen.
According to a new report, David Goyer is working on lower-budget adaptations of more obscure titles like Suicide Squad, Booster Gold, Deathstroke, and Team 7. Hit the jump for more details on these developing projects.
To give an idea of just how low-budget we're talking, the site's sources indicate that Suicide Squad will have a production budget of around $40 million, while other titles could cost as little as $20 million. In comparison, this summer's Man of Steel had a price tag of about $225 million.
Their sources also indicate that Warner Bros. plans to release these films twice a year, in spring and fall. They'll complement the studio's tentpole franchises, allowing Warner Bros. to expand its DC universe cheaply enough that it has money left over to pay for bigger-budget pics. Warner Bros. is expected to make the announcement sometime next year.
For the uninitiated, Suicide Squad centers on a team of imprisoned supervillains who work for the U.S. government in exchange for commuted sentences; Team 7 follows a superpowered black-ops military unit; Booster Gold is about a cocky time-traveling superhero from the 25th century; and Deathstroke centers a super soldier turned mercenary.
If the smaller price tags and less famous names give Warner Bros. the freedom to get more creative with their superhero offerings, this seems like an intriguing idea. If, on the other hand, Warner Bros. is just banking on the belief that comic book fans will turn out for any lazily made adaptations, this could set Warner Bros./DC back even further in their race against Marvel Studios.
What do you think? What other titles would you like to see Warner Bros./DC tackle?