Exclusive: Tom Whalen & Dave Perillo Make Modern Films Vintage At Gallery 1988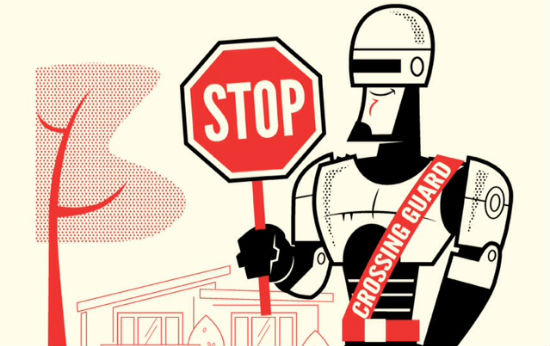 Spinning movies in artistic, fun ways is what Tom Whalen and Dave Perillo are all about. In 2012, the Pennsylvania artists took art fans on a tour of their favorite '80s film locations. In 2013, they're presenting some of their favorite modern films in vintage styles.
The exhibit called Modern Vintage opens at Gallery 1988 East in Los Angeles on December 6. It's the second show by the artists, who are best known for the stellar work they've done in the past for Mondo, Acme, Disney, Fox and so many more. This latest show is a little less specific than their 2012 Gallery 1988 show in that the pieces aren't beholden to any 100% specific theme. Movies like Batman, Robocop, Army of Darkness and Blade Runner are simply reimagined in clever vintage styles. That might mean an advertisement, it might mean a public service announcement or maybe something else entirely. Either way, Whalen and Perillo's signature, colorful art will delight fans who are in on the joke.
Check out an exclusive reveal of several images from the show below.
Modern Vintage opens December 6 at Gallery 1988 East, 7021 Melrose Avenue, Los Angeles CA with an opening reception at 7 p.m. It'll remain on display through the rest of the month.
Here are four pieces by Whalen:
And here are four pieces by Perillo:
The duo promise about 25 pieces total in the show so this is only a small sampling. No matter what your favorite movies are, odds are this show will feature something that makes you smile and ends up on your wall.
For more information on the show, visit www.gallery1988.com.