'The Amazing Spider-Man 2' Trailer Teases Feature 'Rise Of Electro' Subtitle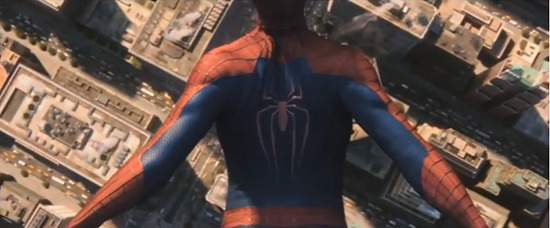 The full trailer for The Amazing Spider-Man 2 is coming on December 5, but here are three brief bits of footage to show off the film's web-swinging hero. Along with the teasing looks at Spidey in action, these clips feature (in Spanish) the Rise of Electro subtitle that has started to appear on international marketing for the movie. (The US version of one of these spots, as seen on Facebook, doesn't have the subtitle.)
There's no hint here of the trio of villains that are teased on one recent set of posters for the movie, but expect to see them in the full trailer that drops later this week.
The Amazing Spider-Man 2 opens on May 2, 2014, with Andrew Garfield, Emma Stone, Jamie Foxx, Dane DeHaan, Colm Feore, Paul Giamatti, Sally Field, Chris Cooper, B.J. Novak and Sarah Gadon.
In The Amazing Spider-Man 2, for Peter Parker (Andrew Garfield), life is busy – between taking out the bad guys as Spider-Man and spending time with the person he loves, Gwen (Emma Stone), high school graduation can't come quickly enough. Peter hasn't forgotten about the promise he made to Gwen's father to protect her by staying away – but that's a promise he just can't keep. Things will change for Peter when a new villain, Electro (Jamie Foxx), emerges, an old friend, Harry Osborn (Dane DeHaan), returns, and Peter uncovers new clues about his past.