'Fast And Furious 6' Blu-Ray Reveals First Scene From 'Fast And Furious 7'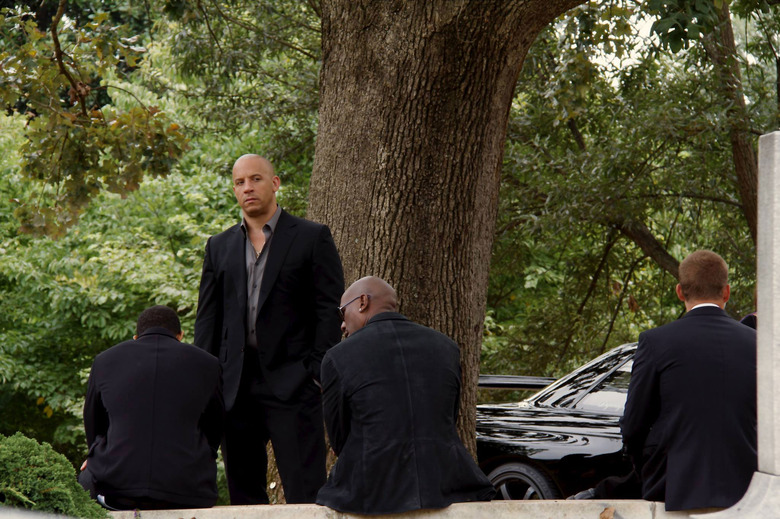 It's no spoiler to say the end of 2013's Fast and Furious 6 sets up 2014's Fast and Furious 7 in a major way. The end credits tag introduces a brand new villain and ties the franchise back into its awesome black sheep entry, The Fast and Furious: Tokyo Drift. We won't see exactly how this new villain and setting plays out until director James Wan releases the sequel on July 11, but the soon-to-be-released Blu-ray for the sixth film does feature a full scene from the seventh. Read about it below, but beware of major spoilers for the previous films.
Movies.com got their hands on an early copy of the Blu-ray, out December 10, and revealed the scene that's on the disc is the whole gang at Han's funeral (seen above in a previously leaked image).
Han is the character who died in the third film Tokyo Drift, only to return in the fourth Fast and Furious. He joked about "going to Tokyo" for three movies, a wink from director Justin Lin about how the timeline was a little screwed up. However, Fast and Furious 6 ends with the scene from Tokyo Drift where Han dies, revealing that movies 4-6 take place before 3, and that a character played by Jason Statham was the reason for his demise.
So in the new scene, the gang is at Han's funeral and Dom (Vin Diesel) says "You were always my brother, Han. He put you in this grave, so now I'll do the same to him." That's followed by Tej (Ludacis) saying "First Han, now Hobbs is laid up, of all people." Hobbs is the bad-ass played by Dwayne Johnson, revealing something bad happens to the character early in the new film.
Apparently, that's pretty much it. The tease is super short, mostly because Wan is still filming the movie. But I love that the Fast and Furious franchise is embracing the Marvelness even more with this tease on the Blu-ray.