'Anchorman 2: The Legend Continues' Opens Earlier; Plus New Mobile Game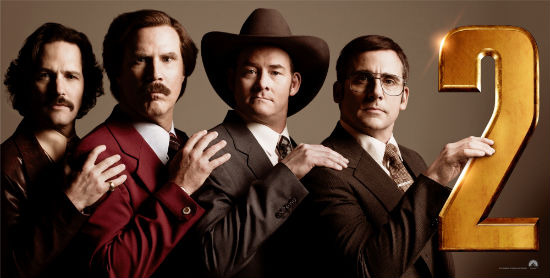 Briefly: Good news, San Diego. Anchorman 2: The Legend Continues has just moved up on your calendar, from December 20 to December 18. That means you can make a good choice on a Wednesday, instead of Friday.
After the jump, also spend some time with Ron Burgundy and his new mobile game, Scotchy Scotch Toss, and find out when you can see him host SportsCenter.
According to a release, "Scotchy Scotch Toss has players toss ice cubes into Ron Burgundy's glass to win points – Will Ferrell voiced 300+ new one liners that continue to crack me up ("You have the motor skills of a very stupid baby!") and Baxter shows up. It's a really fun, casual game – perfect for waiting at the airport this week." Here's the trailer for the game.
It's available in the App Store.
As for SportsCenter, rumor has it Burgundy will hostthe show, in character, at 6 p.m. December 5. Read more at The Big Lead.