Magnolia Pictures Will Distribute James McAvoy's 'Filth' In The U.S.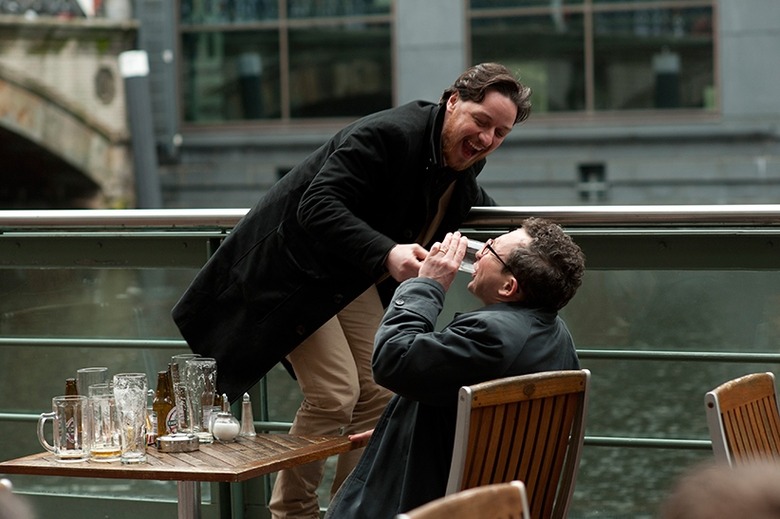 After taking the U.K. by storm earlier this fall, Jon S. Baird's Filth is set to come to our shore next year. Magnolia Pictures has just acquired the North American distribution rights to the twisted Irvine Welsh adaptation, which stars James McAvoy as what may just be the worst cop in movie history. More details on their release plans after the jump.
McAvoy's Detective Sergeant Bruce Robertson is a self-destructive a**hole, and not in that cool TV antihero way. He's addicted to drugs, sexually abusive, corrupt, and violent, and — based on the trailers, at least — McAvoy's bleary, bloated appearance makes him look more pathetic than badass. Bruce will stop at nothing to snag a cushy promotion, but as he claws his way to the top he begins to lose his grip on reality.
Baird directed the film from his own screenplay. Jamie Bell, Imogen Poots, Eddie Marsan, Shirley Henderson, and Jim Broadbent also star. Check out a couple of entertaining pics from the official website below:
Detective Sergeant Bruce Robertson wants a promotion. He is clearly the best man for the job – the rest of his colleagues are just idiots.
Annoyingly, there's been a murder and Bruce's boss wants results. No problem for Bruce. He's in control and when he solves the case and wins the promotion, his wife will return to him. No problem.
But is life that simple? Is Bruce the man he really thinks he is? The tragic, hilarious and memorable answers unfold in FILTH...