Theme Park Rumors: 'Star Wars' Tomorrowland Plans Put On Hold, 'Monsters Inc.' Coaster Cancelled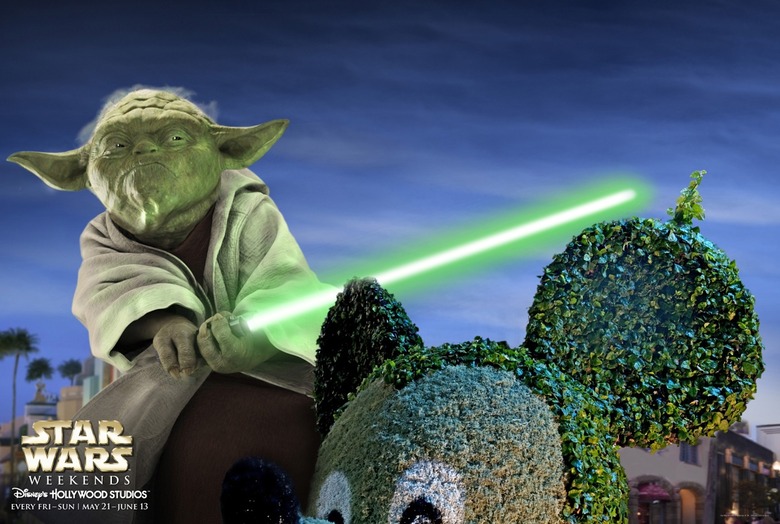 There's some potentially soul-crushing news for Disney theme park fans in the latest installment of the excellent insider column MiceAge. None of this is officially confirmed by Disney (then again, when is it?) but the latest column claims plans to turn Disneyland's Tomorrowland in Anaheim into a more Star Wars centric world have been on hold. Similar plans in Orlando, FL have all but been cancelled.
Then there's the rumored Monsters Inc. roller coaster that was discussed for Disney's California Adventure. According to MiceAge, those plans have now been totally scrapped. Read some more details, and find out why, below.
All of this information comes from the insider column MiceAge. None of it has been confirmed by Disney and while many times this column reports things that come to fruition, other times they don't. Whether that's because they're reported way before the public is ready to hear them, or that they're wrong, is unclear. It feels like the column is so "insider," it lets readers in on ideas when they are just that. Ideas. Not concrete plans. Which is why a rumored Tron light cycle in Tomorrowland can change to a Jedi Speeder bike and the public is none the wiser.
All that said, MiceAge blames these rumored issues on a lot of NextGen development. Things like the MagicBand, a technological advancement being used in Florida where attendees can control their entire park experience – room keys, FastPass, park ticket, etc. – from a bracelet. Innovations like this, and others, are proving exceedingly expensive without enough return. So Disney CEO Bob Iger and his team have decided they needed to cut back on other Imagineer developments at Disney Parks.
Here's the write up on Star Wars:
Originally the plan to add Star Wars to Tomorrowland was going to be divided into two phases; a first phase involving some placemaking and a replacement for Captain EO to be finished prior to the 60th Anniversary, and a second phase kicking off in late 2015. The second phase included the Speeder Bike E Ticket ride, Ewok village and forest where Autopia currently is, a Millenium Falcon walk-thru where the PeopleMover platform is, tearing out the decaying PeopleMover tracks and moving the Astro Orbiter up on top of the Space Mountain concourse, and turning Tomorrowland Terrace into an interactive Tatooine Cantina restaurant show. All of that is now on hold indefinitely. Although Anaheim gets off a bit easier with its Star Wars plan on hold, as the plans for many of these Star Wars elements coming to Disney Hollywood Studios in WDW have just been cancelled outright.
And here's the Monsters Inc. write up:
This was the plan to turn the sleepy and decidedly unattractive corner of DCA's Hollywood Land section into a Monstropolis mini-land. The existing Monsters Inc. dark ride was to remain, but MuppetVision and Stage 17 would be torn out to become an elaborate family-coaster based on the famous door sequence from the Monsters Inc. film. A new restaurant was planned, and that entire section of the park was to be reskinned and extensively rebuilt. This one got cancelled outright rather than the hold status of Star Wars, as Cars Land looks like it can continue to headline a very profitable DCA for at least several more years. There are some in WDI who feel the completed plans for Monstropolis at DCA will never see the light of day again.
The article has some other updates on non-movie centric attractions. If you hadn't figured it out already, it's a must read for Disney fans.
If this is true, it's pretty disappointing Disneyland and Walt Disney World aren't going to get as upgraded and expanded as fans would have hoped in the next 5 years or so. We might hear more from Star Wars late next year once the film is underway and Disney has a new fiscal budget. But, for now, plans are on hold. Money is money and cuts have to happen somewhere.
What are your thoughts?