'The Boxtrolls' Behind-The-Scenes Trailer: Laika's Got The Whole World In Their Hands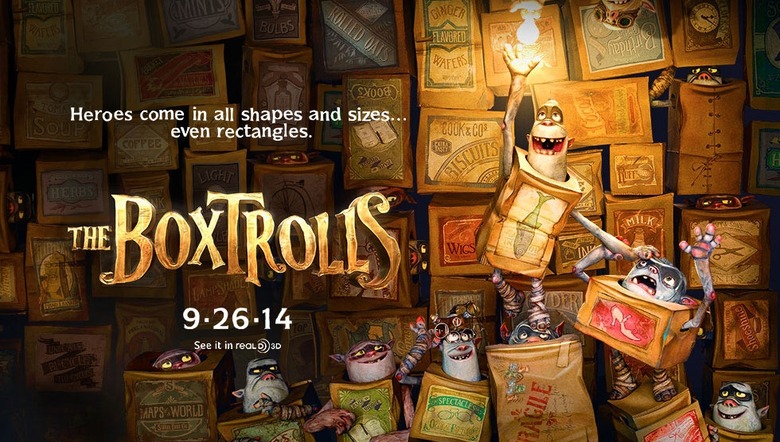 Laika's The Boxtrolls may celebrate a pretty unconventional family, but it's brought to life using some classic, time-tested methods. Focus Features has just unveiled a behind-the-scenes video from the stop-motion feature, which shows off the painstaking work that went into creating this intricate universe. Check it out after the jump.
The Boxtrolls is only Laika's third feature, but the studio has already amassed quite a following for their smart, sweet, lovingly crafted stop-motion / CG hybrid pictures. It's too soon to tell whether the picture as a whole will live up to the high standards set by Coraline and ParaNorman, but visually, at least, it seems to be on par with its predecessors.
Oh, and since the trailer doesn't offer any insight as to what the movie is actually about, here's the official synopsis:
The new 3D animated feature from Laika Studios tells the tale of the Boxtrolls, monsters who live underneath the charming streets of Cheesebridge, who crawl out of the sewers at night to steal what the townspeople hold most dear: their children and their cheeses. At least, that's the legend the townspeople have always believed. In truth, the Boxtrolls are a community of lovable oddballs who are raising as one of their own an abandoned and orphaned human boy named Eggs. When the Boxtrolls are targeted by a villainous exterminator who is bent on eradicating them, Eggs must venture aboveground to save them, where he teams with an adventurous young girl to save not only the Boxtrolls but the soul of Cheesebridge.
Isaac Hempstead-Wright (Bran from Game of Thrones) voices the human kid, Eggs. He's backed by a star-studded cast that also includes Elle Fanning, Simon Pegg, Nick Frost, Toni Collette, Ben Kingsley, Richard Ayoade, Jared Harris, and Tracy Morgan. Graham Annable and Anthony Stacchi direct, and Alan Snow's novel Here Be Monsters! served as the source material.The Boxtrolls opens September 26, 2014.