'Son Of God' Trailer: Like Fast-Forwarding To The Jesus Parts Of History Channel's 'The Bible'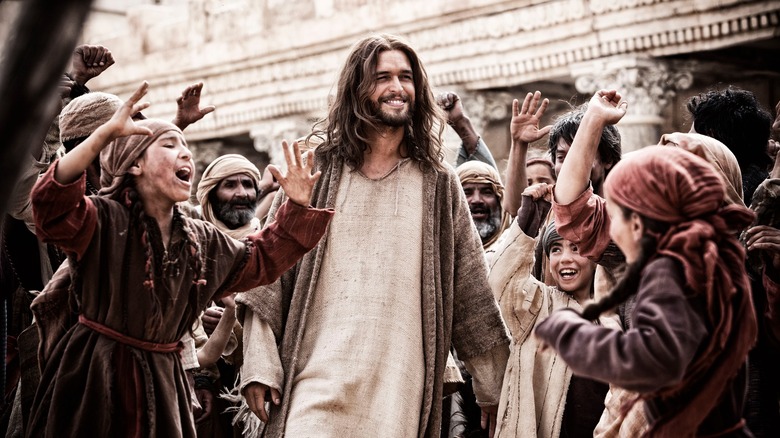 Thanksgiving is just around the corner, which means Christmas isn't far behind... and what better way to prepare for the holiday than by considering the birthday boy himself? 20th Century Fox has just released a trailer for their new feature Son of God, starring Diogo Morgado as Jesus Christ. Check it out after the jump.
The feature is a reworking of History Channel's miniseries The Bible. (Those of you who didn't see it may best remember The Bible for its ridiculous Obama/Satan lookalike "controversy.") The show was a massive hit, even inspiring NBC to start development on a sequel titled A.D.: Beyond the Bible.
For Son of God, producers Mark Burnett and Roma Downey compiled the Jesus sections of the ten-hour miniseries, mixed in some additional material that didn't make the cut for TV, and added a score by Hans Zimmer. The theatrical cut depicts Jesus' entire life, from his birth to his death to his miraculous rebirth.
Though Son of God may not have been conceived with a theatrical release in mind, it actually fits neatly into the wave of Bible-based epics coming our way next year. Son of God opens February 28, 2014, followed by Darren Aronofsky's Noah on March 28, 2014 and then Ridley Scott's Exodus on December 12, 2014.
This major motion picture event — an experience created to be shared among families and communities across the U.S. — brings the story of Jesus' life to audiences through compelling cinematic storytelling that is both powerful and inspirational. Told with the scope and scale of an action epic, the film features powerful performances, exotic locales, dazzling visual effects and a rich orchestral score from Oscar®-winner Hans Zimmer. Portuguese actor Diogo Morgado portrays the role of Jesus as the film spans from his humble birth through his teachings, crucifixion and ultimate resurrection