'Orphan Black' Sets Return Date, Reveals Two New Teasers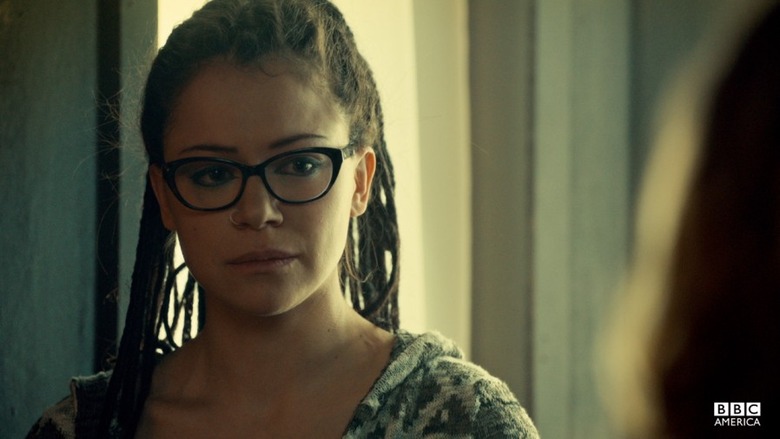 After a brief stop by NBC this fall to woo Tom Haverford, Tatiana Maslany is returning to BBC America next spring for Season 2 of Orphan Black. The hit sci-fi series has just announced its premiere date, and to celebrate that fact has revealed not one but two brand-new trailers. Get the details and watch the videos after the jump.
Well, fret no more. As revealed this week, Season 2 is officially set to debut April 19, 2014 on both BBC America and Canada's Space Channel. Like the previous season, the new season will consist of ten hourlong episodes.
The teaser below, from Space Channel, doesn't have much in the way of new footage. Still, the mere sight of Maslany's face should put a smile on yours, if you're a fan.
The other trailer, from BBC America, is even skimpier on the footage. As in, there isn't any, at all.
But it's just good to know the show is coming back, right?
The first season of Orphan Black received strong acclaim all around for its tense, intricate plotting, morally ambiguous themes, and, perhaps most of all, the strong central performances by Maslany. She won a TCA Award and a Young Hollywood Award for her work, but was sadly overlooked when it came time for the Emmys.
That means the second season already has some sky-high expectations to meet. It's too soon to tell whether it'll succeed, but hopefully it'll be fun to watch them try. Here's the official synopsis for the next run of episodes:
Season 2 hits the ground running with Sarah in a desperate race to find her missing daughter Kira. Her scorched earth tactics spark a war with pro-clone Rachel, dividing and imperiling all the clones. As Sarah discovers more about her past, mysterious newcomers appear, but can they be trusted?