Jean-Claude Van Damme Tries Intentional Comedy In 'Welcome To The Jungle' Trailer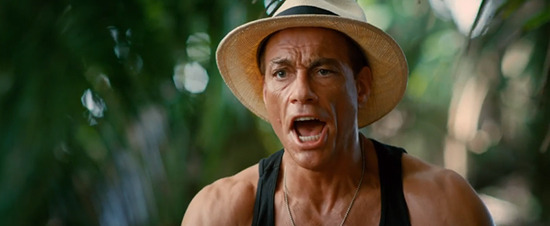 I might ask "why has Jean Claude Van Damme never done a comedy?" and someone could scoff "dude, didn't you see Cyborg? Or Double Impact? Or Street Fight—" and I'd say "shut up, why hasn't he made a movie that was billed as a comedy?" That conversation can go around and around, but the truth remains: there really isn't a JCVD movie that is obviously designed for laughs more than anything else.
Enter Welcome to the Jungle, in which the Muscles from Brussels plays a boot camp instructor at a team-building retreat where, naturally, things go very wrong. Check out the trailer below.
Welcome to the Jungle hits some theaters and VOD on February 7, 2014.
Legendary action star Jean-Claude Van Damme takes on his first comedic role and joins Adam Brody, Rob Huebel, Kristen Schaal, Megan Boone, and Dennis Haysbert in "Welcome to the Jungle". This laugh-out-loud comedy follows a group of unsuspecting office workers who find themselves stranded on a desert island when a corporate retreat led by unhinged former Marine Storm Rothchild (VAN DAMME) goes horribly wrong. Now Chris (BRODY) and his co-workers must battle nature — and each other — to survive!