Watch HBO's New Shows 'Getting On' And 'Ja'mie: Private School Girl' Online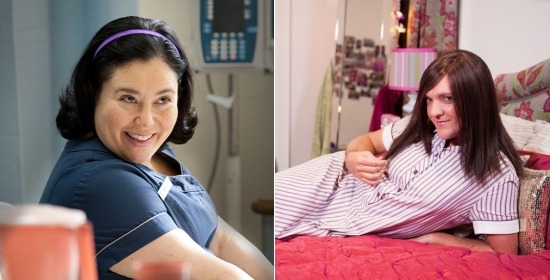 Boardwalk Empire, Hello Ladies, and Eastbound and Down are done for the year (or, in the latter's case, forever), and Girls, Looking, and True Detective don't premiere until January. So what's there to see on HBO between now and 2014?
Well, the network is hoping you'll use that time to check out two of their new shows, the medical comedy Getting On and the Summer Heights High spinoff Ja'mie: Private School Girl. Both series debuted on air last night, and have now released their first episodes online. Check 'em out after the jump.
Whether or not you'll appreciate Ja'mie likely depends on how you've felt about Lilley's other shows so far, as the series has received mixed reviews overall. Watch the first episode in full below.
Here's HBO's description of the series:
The b*tch is back ... and she's meaner than ever.
From Chris Lilley, the creator, writer and star of Summer Heights High and Angry Boys, comes the continuing story of Ja'mie King, a conniving Year 12 student at Hillford Girls Grammar, a tony private school in Sydney, Australia. Ja'mie, the self-promoting "queen bee" of Summer Heights High, returns from an exchange semester at that public school for her last three months at Hillford, where she's the unchallenged diva among the school's most popular girls, as well  as the school captain. After passing her school days cooing with fellow prefects and dissing the "boarders," Ja'mie turns her attention to conquering members of the opposite sex enrolled nearby at Kelton Boys Grammar. She also finds herself in a number of jams that incite the wrath of school officials and her parents. Her callous manipulations begin to wear thin as a few brave girls start to challenge Ja'mie's reign. But she'll stop at nothing to have the last word, emboldened by her hot-girl entourage. Clothes, cars, boys, parties ...  Ja'mie has it all, and her overriding goal is to win the Hillford Medal.
Getting On is also an import of sorts, as it's an American adaptation of a British TV series. Laurie Metcalf, Alex Borstein, Niecy Nash, and Mel Rodriguez lead the dark satire, which takes place in the geriatric ward of a California hospital. We can't embed the first episode here, unfortunately, but you can watch the video on YouTube, and read the synopsis below:
At the Billy Barnes Extended Care Unit of Mt. Palms Hospital in Long Beach, Cal., the staff attends to the needs of female patients who are often "getting on" in years, while dealing with the challenges of a health-care bureaucracy in need of an overhaul. Even as they attempt to serve their charges under less-than-ideal circumstances, the lives of this ragtag crew are complicated by conflicting agendas, both professional and personal.
The comedy may not be for everyone, as it reportedly goes to some pretty dark places. But it's received some pretty positive notice from critics who don't mind a bit of bleakness with their humor.Getting On airs Sundays at 10:00 PM, followed by Ja'mie: Private School Girl at 10:30.