Sequel Bits: 'Harry Potter', 'The Raid 2', 'Fast & Furious 7', '300: Rise Of An Empire'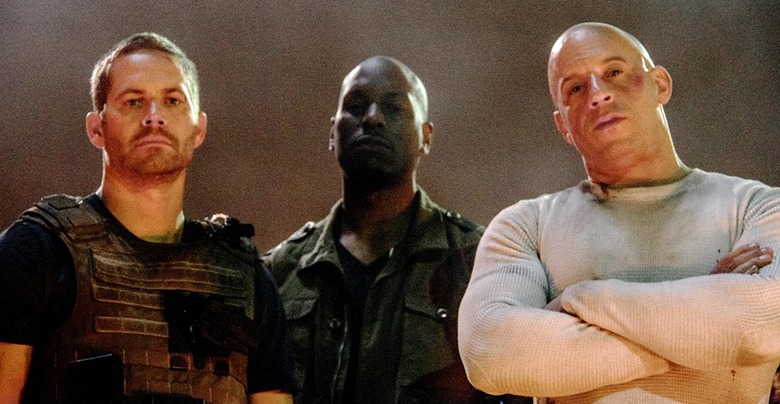 Whether you want to read Keanu Reeves' regrets about the (non-existent) Constantine sequel, Robert Englund's hopes for a (theoretical) Elm Street prequel, or Alfonso Cuaron's thoughts on the Harry Potter spinoff, there's a little something for everyone here. Also after the jump:
Gareth Evans breaks down the trailer for The Raid 2: Berandal
Michael Bay hints at a big theme from Transformers 4
Steven Spielberg gets a bit political while in Hawaii for Jurassic World
See more pics of Vin Diesel on the set of Fast & Furious 7
The 300: Rise of an Empire site offers new pics and footage
Instead, Reeves is prepping to step back into another of his old roles, time-traveler Ted Logan. "Bill & Ted 3 is waiting for a rewrite from the writers, and we're still trying to find a way to finance the film," he explained. "We don't have a director, we don't have any money, so we're trying to get a script. Maybe if we have a script, they will come, I don't know." [Vanity Fair]
Robert Englund has played Freddy Krueger in eight different movies over the course of three decades, but he wouldn't mind revisiting Elm Street one more time. "I would be up perhaps for a prequel to Nightmare on Elm Street," he said, before adding, "However, I don't know if that would ever happen now because of the rights situation."
Even if it happens, Englund doesn't necessarily have his heart set on playing Freddy again. "I would be happy to be invited to play the old, wise dream expert, the professor of dream analysis or Jungian dream symbolism," he said. "That would be fun, to be invited back as a kind of cameo that way. But that's probably the only way you'll see me, because if they do want to reboot it, they're going to need a younger actor." [Flicks and the City]
Nearly a decade after Harry Potter and the Prisoner of Azkaban, Alfonso Cuarón seems open to the idea of returning to J.K. Rowling's world of magic for the upcoming spinoff, Fantastic Beasts and Where to Find Them. "Akzaban was fun to make, and when I did it, I was invited to do the next one, but I didn't want to overstay the welcome, because it was such an experience," he said. "But now? Why not? I do have stuff that I want to do [next], but a J.K. thing..."
However, he quickly clarified, he has no reason to think that Warner Bros. even wants him at this point. "They haven't called me yet! They haven't decided to invite me!" he added. "Looking forward! At least to see it, because nobody's invited me." [Vulture]
The first trailer for The Raid 2: Berandal made an immediate impression, but it was pretty light on plot specifics. So to offer some more insight as to what we're actually looking at, director Gareth Evans offered a beat-by-beat breakdown of the video.
"The idea is that [Iko Uwais]'s character goes undercover in this one and there are shades of The Departed and Infernal Affairs in there," Evans says of the scene showing Uwais in a prison cell. "The prison section is the opening of the film, setting up his mission and that's going undercover in order to infiltrate a mob family to uncover corruption in the police force."
For more on the "connective tissue" that ties this film to the previous one, the mysterious figure with a bag over his head, the various cold-blooded killers we'll meet throughout the movie, and much more, read the full piece over at Empire. [via Comic Book Movie]
Although Michael Bay has been understandably reluctant to divulge too many details about the plot of Transformers: Age of Extinction, the director did touch upon one of the movie's major themes in a recent interview. "The world has progressed/modernized to a point it can almost cannibalize and kill itself," he said.
In lighter news, the cast also 'fesses up to playing pranks on each other while on set. "We got Wild Weave Wednesdays," said Jack Reynor, who plays race car driver Shane. "That's when Mark [Wahlberg] and I rip out Nicola [Peltz]'s weave every Wednesday." Peltz recalled those painful moments as well. "Mark is the worst," she said. Watch ET's on-set report below:
Transformers: Age of Extinction hits theaters June 27, 2014. [via TFW 2005]
While in Hawaii to prepare for Jurassic World, Steven Spielberg found a moment to meet up U.S. Senator Mazie Hirono. The politician posted a snapshot of their encounter on her Twitter feed.
Caught up w/ Steven Spielberg on preparing to film #JurassicWorld in Hawaii pic.twitter.com/kPkNUgCu4U

— Senator Mazie Hirono (@maziehirono) November 20, 2013
The three previous installments in the dino-centric franchise were also shot in the Aloha State. Jurassic World opens June 12, 2015. [via Jedi News]
Social media enthusiast Vin Diesel continues to share pics from the set of Fast & Furious 7 on his Facebook page. The latest batch includes an image of Diesel laughing it up with director James Wan; Diesel glowering menacingly with co-stars Paul Walker and Tyrese Gibson; and Diesel in what he calls a "Dom state of mind."
See the gang in action when Fast & Furious 7 lands July 11, 2014. [Facebook]
Warner Bros. has officially launched the website for 300: Rise of an Empire, and it's stuffed with goodies for impatient fans including new bits of footage, some new images, and a handy tool to create your own GIF from the trailer. Flip through the screencaps below to sample some of the fresh bits and pieces, and then head to the site for the full experience.
300: Rise of an Empire arrives March 7, 2014. [via Comic Book Movie]