Watch: Coen Brothers, Alec Baldwin And Carter Burwell In 90-Minute Discussion Of Psychological Response To Film Scores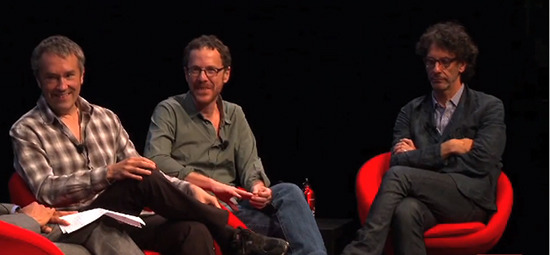 Hopefully you've got 90 minutes of free time in the next couple days, and assuming that you do, bookmark this long talk about the emotional effect of music when paired with image.
"Art Of The Score" was put together by the World Science Festival and the New York Philharmonic, and is hosted by Alec Baldwin. He's joined by Ethan and Joel Coen, their frequent collaborator Carter Burwell, and neuroscientist Aniruddh Patel. The topic in general is music and film scores, and the ways in which they create an emotional response in the audience.
The talk begins with the example of 2001: A Space Odyssey, and the fact that Alex North's original score was shelved in favor of music that Kubrick had used as the temp track, including the well-known Richard Strauss composition 'Also Sprach Zarathustra.' But it goes a good bit deeper than that over the course of the hour-plus talk, from the neurological response to music, to the ways that musical influences can shape the direction or gestation of a film, and the ideas behind choosing music that conflicts with the image or scene, rather than directly complimenting it. Watch below.
[via The Playlist]