'Wrong Cops' Trailer: Gay Porn, Car Humping, And Liberties With Law Enforcement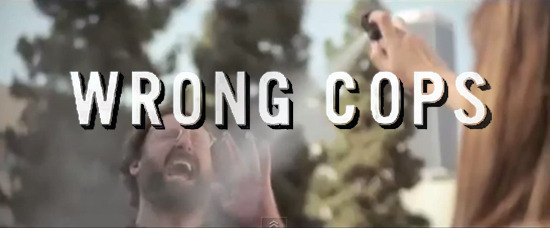 The trailer for Nymphomaniac set the bar pretty high when it comes to including explicit content in movie advertising. And, in truth, this trailer for Wrong Cops, from director Quentin Dupieux (Rubber, Wrong) isn't nearly as explicit as that. But, in the fashion that is now the recognizable signature of Dupieux, it is nuts.
I'm a big fan of Dupieux's particular brand of crazy, which pushes real situations into the realm of the absurd; while there are some pretty bonkers ideas in his films, they often seem to spring from a recognizable place, or from a pretty simple perception of things that take place in the everyday. His movies show that a dimension of unrecognizable behavior is just a step or two away from the life we all know. It's like The Twilight Zone, with more abusive police and car humping. (While this one isn't red band, it might not be safe for work.)
As he told me earlier this year, when talking about his last film, Wrong, "almost every movie makes too much sense" — leave some room, in other words, for the strange, disconnected moments that never add up. Watching this trailer, it seems like Wrong Cops (which features Eric Wareheim (Tim and Eric), Steve Little (Eastbound & Down), Ray Wise (Twin Peaks), and Marilyn Manson) might have enough of those moments to account for the average person's annual dose of "unusual." Check it out below.
Be sure to pause for the rating announcement at the beginning of this trailer:
Wrong Cops is on VOD and in a limited theatrical run on December 20.
'Wrong Cops' chronicles a group of cops behaving badly in a not too-distant future where crime has been all but eradicated. This hilarious ensemble comedy features an amazing cast that includes Marilyn Manson, Steve Little, Eric Wareheim, Jon Lajoie and many more.