'The Secret Life Of Walter Mitty' Clip: Ben Stiller Comes To The Rescue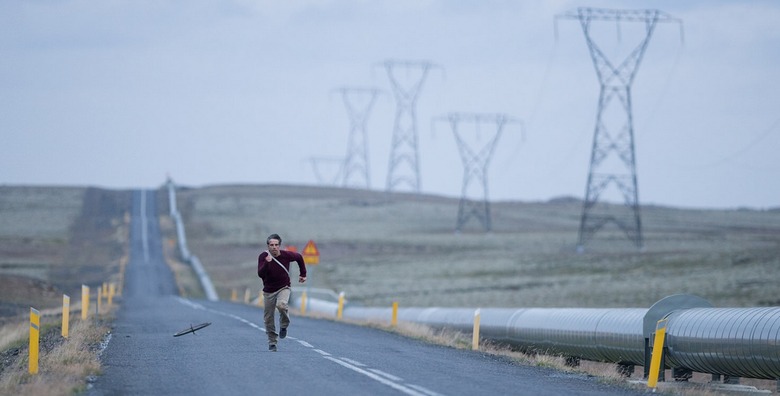 The Secret Life of Walter Mitty isn't a fantasy movie per se. There are no hobbits or house elves, and when Walter needs to get from New York to Greenland he hitches a ride on an airplane, not a friendly dragon. But the world inside Walter's head is a different story, as demonstrated in the latest clip from Ben Stiller's fanciful drama. Check it out after the jump.
This scene perfectly sets up the deep divide between Walter's real life and his daydreams at the start of the movie. In the former, he's a mild-mannered Life Magazine editor who tries to wink at his office crush (Kristen Wiig) online because he lacks the courage to flirt with her in person; in the latter, he's a dashing hero who saves her from a burning building and even helps out her three-legged dog.
Scenes like this one should ring true to anyone who's ever found themselves suffering from a similar disconnect between fantasy and reality — which is to say, everyone. I wrote in my NYFF review that the movie as a whole leaves something to be desired (Peter was more enthusiastic), but this scene is everything the movie wants to be: funny, bittersweet, and gorgeous to look at.
The Secret Life of Walter Mitty opens Christmas Day. Adam Scott, Patton Oswalt, and Sean Penn also star.
Ben Stiller directs and stars in THE SECRET LIFE OF WALTER MITTY, James Thurber's classic story of a daydreamer who escapes his anonymous life by disappearing into a world of fantasies filled with heroism, romance and action. When his job along with that of his co-worker (Kristen Wiig) are threatened, Walter takes action in the real world embarking on a global journey that turns into an adventure more extraordinary than anything he could have ever imagined.