Idris Elba Confirms He Met With Marvel About 'Luke Cage'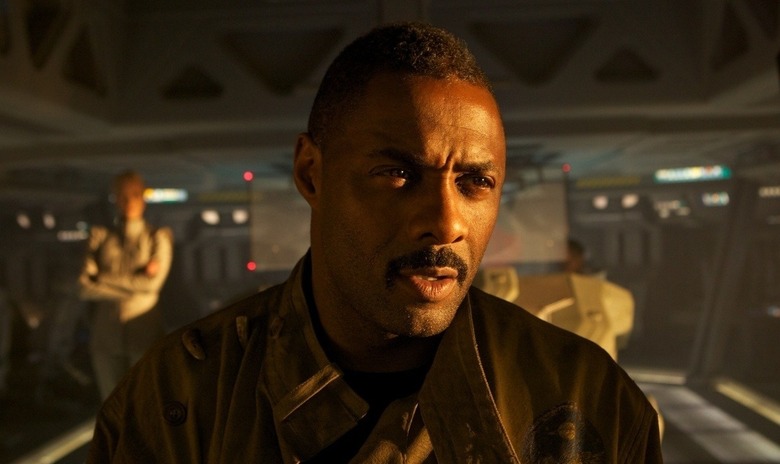 Just about every actor in Hollywood has been cast in, linked to, or rumored for a Marvel superhero at some point or other, but one story that's cropped up quite a few times over the years is that Idris Elba was in the running to play Luke Cage. Elba himself seemed perfectly happy to roll with this particular claim, telling press he'd "like a stab" at the character.
Ultimately, though, nothing came of that chatter. The long-rumored movie languished in development, and a few weeks ago Marvel announced that they were developing the character for a Netflix series. But for what it's worth, Elba confirms now that he actually got as far as meeting with Marvel at some point. Hit the jump to see what he had to say about it, as well as his comments on those James Bond and Jurassic Park rumors.
At this point, the interviewer explained to him that Marvel was now making a Luke Cage series instead of a movie, to which Elba responded, "That's right, yeah."
Given that Elba has plenty of TV experience, with shows like The Wire, The Office (U.S.), The Big C, and Luther under his belt, it might not be entirely inconceivable for him to play Luke Cage on the small screen. Especially if, as Marvel has hinted, there's a chance of those shows getting adapted into movies. But Elba's apparent lack of knowledge about the upcoming Netflix series suggests that he's not involved right now.
Besides, it's not like Elba is the only person interested in the part. Old Spice pitchman Isaiah Mustafa has also met with Marvel about the character, and even made an unofficial teaser to promote himself for the role. Of course, that was before Marvel revealed their TV plans for Luke Cage, so who knows where things stand now.
Meanwhile, in other "projects that Elba isn't doing" news, the British actor also shot down those Jurassic World reports: "No, it's just a rumor." Indeed, he seemed surprised that a fourth Jurassic Park movie was being made at all ("Really?").
Elba seemed slightly more enthusiastic, if not necessarily more optimistic, about the possibility of playing James Bond.
I say it all the time, but if it was to ever happen and if I was ever to get offered that role, that would be the will of a nation. That would be like, "Wow, human beings are really powerful. They really made that happen, because Barbara Broccoli certainly didn't"... it would be the will of a nation because everyone has been saying that to me.
At this point, though, the James Bond thing is little more than a fantasy. Daniel Craig's tenure as 007 won't end for another few years, and Elba's only a little bit younger than he is. Which means that by the time Craig turns in his Walther PPK, Elba may be a bit old to play the character anyway.
Do you want to see Elba as Luke Cage and/or James Bond?