'Muppets Most Wanted' Trailers: A Case Of Mistaken Frog Identity With Plenty Of Cameos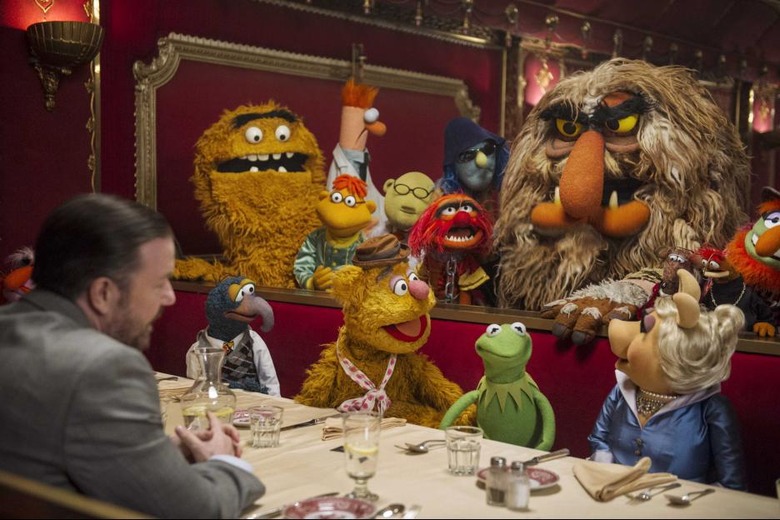 The gang's back, and they have a devious new leader in the three new trailers for next year's Muppets Most Wanted. Kermit has been captured and replaced by the world's most famous thief, Constantine. Will the Muppets figure it out? And how many cameos, to go along with leading roles from Ricky Gervais, Tina Fey and Ty Burrell, will it take to help them solve the case? Find out in the domestic, and two international, trailers below.
Thanks to Yahoo for the domestic trailer.
Was that Tom Hiddleston? P. Diddy? Ray Liotta? And those are just some of the cameos director James Bobin is comfortable showing us. It's going to be yet another star-studded affair.
And here are two new international trailers. First is the UK trailer which has a new beginning.
And this is the Australian one. Which is pretty much just the domestic trailer again.
Hattip to Bleeding Cool.
Featuring all new songs from Oscar-winner Bret McKenzie, Muppets Most Wanted opens March 21. Here's the official plot description:
Disney's "Muppets Most Wanted" takes the entire Muppets gang on a global tour, selling out grand theaters in some of Europe's most exciting destinations, including Berlin, Madrid and London. But mayhem follows the Muppets overseas, as they find themselves unwittingly entangled in an international crime caper headed by Constantine—the World's Number One Criminal and a dead ringer for Kermit—and his dastardly sidekick Dominic, aka Number Two, portrayed by Ricky Gervais. The film stars Tina Fey as Nadya, a feisty prison guard, and Ty Burrell as Interpol agent Jean Pierre Napoleon.
Disney's "Muppets Most Wanted" is directed by James Bobin and produced by David Hoberman and Todd Lieberman. Bobin co-wrote the screenplay with Nicholas Stoller, who is also executive producer with John G. Scotti.