'Robocop' International Trailer: The Man In The Machine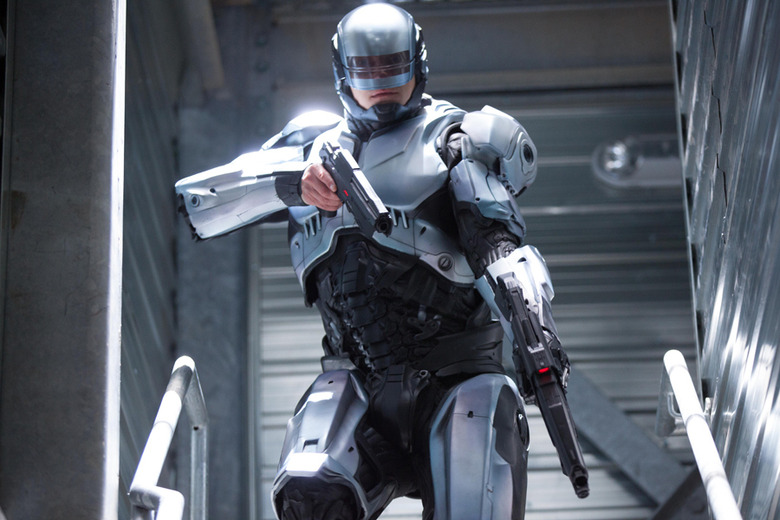 Most of the Robocop marketing so far has focused on, well, Robocop (Joel Kinnaman). But before he was Robocop, he was a plain old human known as Alex Murphy — and as the latest international trailer reminds us, Alex is lurking inside of him still.
While there's more than enough action to go around in this new promo, the real focus is on the very human cost of Omnicorp's new robot police force. It seems that being brought to the brink of death and then revived as a freakish android-man hybrid tends to take an emotional toll on a guy. Watch the video after the jump.
There's a lot going on in Robocop. In addition to the basic sci-fi cop storyline, Padilha's also crammed in political issues, family drama, and existential angst. Whether he manages to juggle all of those themes remains to be seen, but it's great to see Robocop is at least trying to be something more than a lazy action movie remake.
Robocop arrives February 7, 2014 in the U.K. February 12, 2014 in the U.S., because nothing says "Happy Valentine's Day" like a tortured man in an android suit.
In RoboCop, the year is 2028 and multinational conglomerate OmniCorp is at the center of robot technology. Overseas, their drones have been used by the military for years – and it's meant billions for OmniCorp's bottom line. Now OmniCorp wants to bring their controversial technology to the home front, and they see a golden opportunity to do it. When Alex Murphy (Joel Kinnaman) – a loving husband, father and good cop doing his best to stem the tide of crime and corruption in Detroit – is critically injured in the line of duty, OmniCorp sees their chance for a part-man, part-robot police officer. OmniCorp envisions a RoboCop in every city and even more billions for their shareholders, but they never counted on one thing: there is still a man inside the machine pursuing justice.