Dustin Hoffman, Steve Buscemi, And Method Man Join Adam Sandler In 'The Cobbler'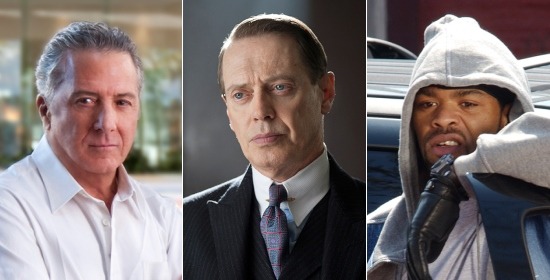 Adam Sandler seemed like an unexpected choice when indie filmmaker Tom McCarthy cast him in The Cobbler, but what we didn't know at the time was that he was just the beginning of a very eclectic cast. Downton Abbey's Dan Stevens was the next to sign on, and now Dustin Hoffman, Steve Buscemi, and Method Man have all jumped aboard as well. Get plot details and more after the jump.
While that fantastical premise wouldn't be totally out of place in a Happy Madison production, McCarthy's track record of bittersweet character-driven pieces like The Station Agent, The Visitor, and Win Win suggests that The Cobbler will be a bit more toned down than your average Sandler vehicle. Mary Jane Skalski is producing the $10 million picture, as she has all of McCarthy's feature directing efforts to date.
Coincidentally, all three of the new additions are HBO vets. Hoffman was last seen in the David Milch-created horse-racing drama Luck, Buscemi continues to star in Terence Winter's Prohibition drama Boardwalk Empire, and Method Man cropped up in both The Wire and Oz.
On the big-screen side, Hoffman recently directed the opera pic Quartet and will appear next year in Jon Favreau's restaurant comedy Chef, while Method Man has starred in The Sitter and Red Tails. Buscemi's busy year has included roles in The Incredible Burt Wonderstone and Monsters University, as well as Sandler's Grown Ups 2 — the latest in a string of team-ups between Buscemi and Sandler.
The Cobbler is shooting now in New York City.