Christian Bale Created Bat-Voice During 'Batman Begins' Audition To Justify Wearing The Hero's Suit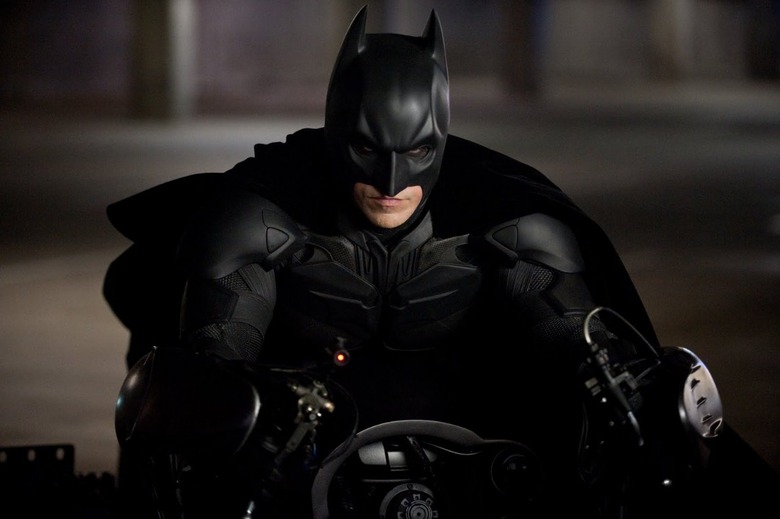 One constant topic of conversation with respect to Christopher Nolan's Batman films is the voice Christian Bale used for the costumed character. Is it a great way for Bruce Wayne to create a distinct and exaggerated persona for the hero, or a ridiculous affectation, or something in between? That question can be debated as much as you'd like, but now we've got Bale's own explanation of the voice, which he came up with as he auditioned for the part. In fact, he created the voice as a way to deal with the mental aspect of the character, especially when he (Bale, that is) found out first-hand what it's like to walk around in that suit.
Bale isn't a big fan of released audition footage — "they get you at your most vulnerable moment, the bastards," he gripes — but overall the clip below represents a good, light talk about the Nolan films and the character. It's refreshing!
Asked about the audition while promoting Out of the Furnace, Bale ended up describing the origin of the Bat-voice that has been the topic of so many conversations among fans:
They put me in Val Kilmer's suit. It didn't even fit properly, and I stood in it and I went 'I feel like an idiot.' What kind of guy walks around, dressed like a bat? And is then going to go 'Hello, how are you? Just ignore that I'm dressed as a bat.' Of course, he's meant to be doing this. If you look at the history of the guy and the pain that he went through. I went 'I can't do this in a normal voice. I have to become a beast in order to sell this to myself.
I went home that evening, and my wife said, 'How'd it go?' I went, 'I kind of did this.' And I showed her, and she went, 'Oh, you f—ed that one up, didn't you?' Thank God they went for it. [The voice] ain't for everybody. Ben's obviously going to have to do his own thing, but it was the only way that I could find how to get into that and to justify wearing the fricking Batsuit. Otherwise, he's just loopy beyond belief. He's loopy, but he's loopy with a method to his madness.
Here's the video from MTV, in which Bale also talks about the impact of Batkid: