Long 'The Tale Of Princess Kaguya' Trailer From Studio Ghibli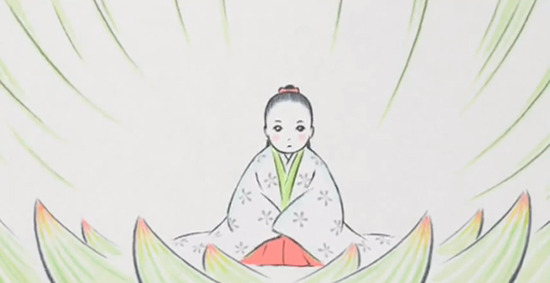 It's been years since we saw the arrival of a period that was as rich for Studio Ghibli fans as this year has been. We get new films from not one of the studio's major directors, but two: Hayao Miyazaki, with The Wind Rises (see the new US trailer here) and Isao Takahata with The Legend of Princess Kaguya.
The latter film adapts the Japanese story The Tale of the Bamboo Cutter, in which an aged and childless bamboo cutter slices open a glowing bamboo stalk to find a tiny child inside. He and his wife raise the girl, Kaguya, who grows into a delicately beautiful woman. The cutter also finds himself rich as his work, impossibly, yields gold from bamboo. The strange truth of her existence is revealed, as hopeful suitors arrive to ask for Kaguya's hand in marriage.
We've seen various small trailers and footage breaks from The Legend of Princess Kaguya over the past couple months, but now we've got an extended six-minute trailer that really shows off the film's gorgeous animation, influenced by ancient Japanese illustration styles.
The Tale of Princess Kaguya doesn't have a US release date; it will be on screens in Japan on November 23.