'The Killing' Comes Back To Life, Again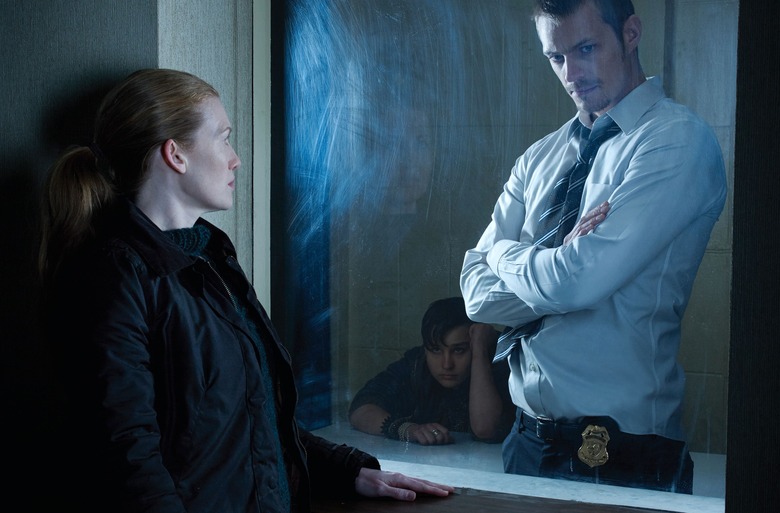 The Killing is really and truly the show that can't be killed. After not one but two cancellations by AMC, the crime drama has just been resurrected for a fourth season, this time on Netflix. The new season will supposedly be its last, but at this point, who knows if this show is even capable of staying dead? Hit the jump to learn who's coming back for the next run of episodes, and more.The Killing was cancelled for the first time after its second season. Although the show had started out strong, it started shedding viewers as they grew more and more disillusioned with the plotting. But the network reversed the decision a few months later, with some nudging from Netflix. The streaming service had struck a deal to host the episodes 90 days after the end of Season 3, in exchange for chipping in to offset some of the production costs.
AMC then cancelled the show again in September, after a season that attracted strong reviews but uninspiring ratings. At the time, we noted that studio Fox TV was looking to find a new home for the show, but wrote that it wasn't likely to find one. Perhaps we should've known better than to bet against a show that had already pulled off one miraculous resurrection. AMC is not involved in the fourth and final season.
Cindy Holland, Netflix's VP of original content, explained the decision. "The rich, serialized storytelling in The Killing thrives on Netflix, and we believe that it is only fitting to give Sarah Linden (Enos) and Stephen Holder (Kinnaman) a proper send off," she said. "We are looking forward to offering fans — both existing and new — a series that we know is perfectly suited for on-demand viewing."
Will you be happy to see The Killing make a(nother) comeback, or do you wish this show were dead for good?