'The Spoils Of Babylon' Trailer: Tobey Maguire Looks Back On His Impossible Life And Family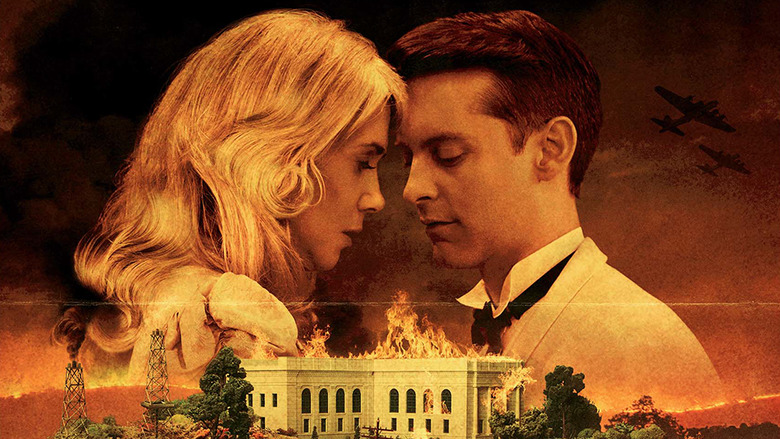 While the mainstream is fetishizing the '90s, a crew is still looking back at the forgotten corners of '80s pop culture. IFC mini-series The Spoils of Babylon is from exec producers Will Ferrell, Adam McKay, Matt Piedmont, Andrew Steele and Nate Young. (Steele and Piedmont wrote.) It is designed as a spoof of '80s event television, and skewers stuff like The Thorn Birds; beach lit stories that, in their small-screen incarnations, are forgotten by most people who weren't around to watch them the first time.
The series is about the Morehouse oil tycoon family, with Tobey Maguire, Tim Robbins and Kristen Wiig among the leads. (Jessica Alba, Jelly Howie, Val Kilmer, Michael Sheen, and Steve Tom also show up.) Below, watch a trailer in which Maguire narrates a brief history of the family, culminating with the ominous memory of the Morehouse son Winston.
By the way, Winston — Winston! — is played by Haley Joel Osment. Oh, and the full title of this is technically Eric Jonrosh's The Spoils of Babylon, with Jonrosh being a fictional author (played by Will Ferrell) who wrote the fictional novel upon which this real mini-series is based. All those details are great, as is the way that this folds in some appropriations from Paul Thomas Anderson and Wes Anderson along with the '80s TV satire.
Here's another trailer:
Here's a synopsis of the series. The Spoils Of Babylon premieres with two back-to-back half-hour episodes January 9 at 10 PM on IFC.
'The Spoils of Babylon,' a century-spanning saga, chronicles the sexy and dramatic lives of the Morehouse family, led by Jonas Morehouse (Robbins), his daughter Cynthia (Wiig) and her adopted brother Devon (Maguire) who made their fortune in the oil business. The series takes viewers from the oil fields of Texas to boardrooms in New York City, through war torn battlefields and velvet-sheeted bedrooms.
Cynthia and Devon's unbridled and taboo passion for one another cannot be prevented. Add in Cynthia's evil son Winston (Osment), her put upon husband Chet Halner (Sheen), and Devon's new love interest Dixie Mellonworth (Alba), and the booze, the pills, more passion, more pills and the heartache, and you have a mercurial potboiler. Then add in illegal arms deals, international espionage, the Shah of Iran (Ferrell), and two US Army Generals (Kilmer, Steve Tom) and it begins to overflow with boiling liquid in a pot on a hot stove that is operational.