Sony's 'Sex Tape' Moves Into 'Fifty Shades' Slot; 'Beware The Night' And 'Kitchen Sink' Also Get Dates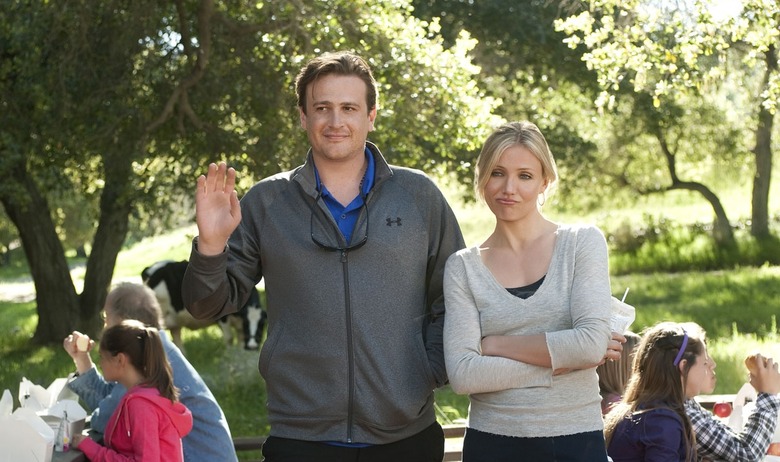 As we get close to the end of this year, studios are getting their schedules in order for the next couple of years. Disney gave new release dates to Star Wars Episode VII and Tomorrowland last week, right around the same time that Warner Bros. dated Live By Night and Jersey Boys, and Fox rescheduled Fantastic Four, Assassin's Creed, and Independence Day 2 earlier this week.
Now it's Sony's turn to do some rearranging. The studio has announced new opening dates for three of its major upcoming releases: The Bad Teacher reunion Sex Tape, the supernatural horror Beware the Night, and the horror-comedy Kitchen Sink. Hit the jump for all the details.
Directed by Jake Kasdan, the raunchy comedy follows a married couple (Jason Segel and Cameron Diaz) who try to spice things up by filming themselves, and then discover the next morning that the video has gone missing. It should serve as a fun bit of counterprogramming for Marvel's Guardians of the Galaxy, which debuts on the same date.
Meanwhile, the studio is making a far bigger shift for one of its upcoming horror releases. Beware the Night has been bumped up by half a year, from January 16, 2015 to July 2, 2014. The new date pits it against Melissa McCarthy's dark comedy Tammy.
While plenty of horror movies have done well in the colder months, the shift to summer comes across like a huge vote of confidence. Warner Bros.' The Conjuring did big business in a similar slot this past summer. Eric Bana leads Beware the Night as a skeptical cop who teams with a "renegade priest" when he's targeted by demonic forces. Scott Derrickson, of Sinister and The Exorcism of Emily Rose, is directing.
With Beware the Night off the January slate, Sony has slotted another genre pic for that month, albeit one that's very different in tone. The zombie-vampire-alien mashup Kitchen Sink will now open January 9, 2015 instead of October 24, 2014. No other major releases are scheduled for that date, although Max Landis' Frankenstein opens one week later.
Robbie Pickering is helming the comedy, which sees humans, bloodsuckers, and the undead joining forces to fend off an extraterrestrial attack. Patton Oswalt, Bob Odenkirk, Vanessa Hudgens, Ed Westwick, and Joan Cusack star.
[Source: Box Office Mojo]