Don Cheadle Finally Set To Star In And Direct Miles Davis Biopic 'Kill The Trumpet Player'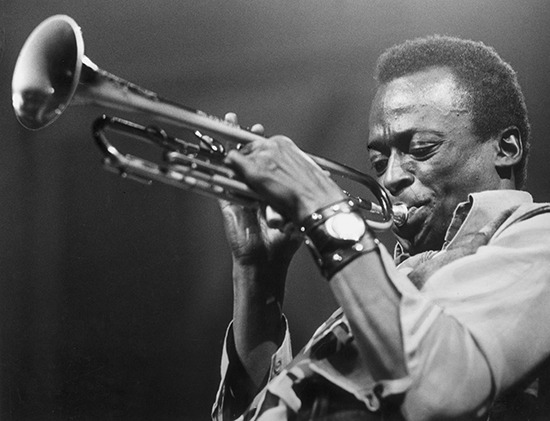 Miles Davis was among the most spectacular talents of the 20th century, fiery and commanding on stage, and fearless as a songwriter. He pushed jazz forward in ways that are incredible, coming from just one man. Offstage, his life was complicated, as his temper could be just as explosive as his music. He dealt with drug addiction and had complicated personal relationships with women, and with many figures in the music scene.
While Davis appeared as an actor in some minor roles (he was in Scrooged!), he has never been portrayed on screen in a major way. That will change when Don Cheadle stars as Davis in Kill the Trumpet Player, which will also mark Cheadle's debut as a feature director. The film has been in development for years, but appears ready to shoot now, at last. 
Cheadle co-wrote with Steven Baigelman, and Ewan McGregor and Zoe Saldana will co-star.
The film is not a life-spanning story, but rather a focused look at one small period in the musician's life. It will tell "the story of a few dangerous days in the life of Miles Davis, the virtuoso, fighter and genius, as he bursts out of his silent period and conspires with a Rolling Stone writer (McGregor) to steal back his music."
That places the film in the early '80s, as Davis stopped performing in 1975 and wouldn't reappear in the public eye until 1981. The six "silent years" were characterized by some of the trumpeter's most severe drug use, excessive sex, personal breakdowns, and even a long period where he practiced and composed only sporadically. He returned to a musical world that was rather different than the one he left, but again carved his own niche, and wrote and performed steadily until his death in 1991.
Cheadle described the film in 2011:
I wouldn't call it a biopic. We're working on a film about a couple days in Miles' life, and it's wall-to-wall his music, and wall-to-wall him... It's actually during his silent period. It's a very interesting take on the genre, to me. And that's why I'm excited about it, because it's not a cradle-to-grave, right-down-the-middle story where you're [hitting all these biographical] benchmarks, like when he met Charlie Bird, and was introduced to John Coltrane. It's not trying to be what I think a PBS show could do much better, which is an overview of Miles Davis' life. It's a movie that Miles Davis would have wanted to star in... Miles Davis was relevant as a musician for 40 years. Where do you get in and out? How do you do that without giving every bit of his life short shrift? So we didn't want to try to cram into a 90-minute movie, or even 120-minute movie, every bit of information that we could. We wanted to create a piece of art, a piece of film, that would intrigue people and maybe want to make them do their own investigations of his life, and decide what his life and music meant to them.
Here's Davis performing with what is referred to as his "second great quintet" — Wayne Shorter (saxophone), Herbie Hancock (piano), Ron Carter (bass), and Tony Williams (drums) — in 1967.
Here's the press release:
Los Angeles, CA (November 13, 2013)— Don Cheadle, Ewan McGregor, and Zoe Saldana will star in BiFrost Pictures' KILL THE TRUMPET PLAYER, it was announced today. KILL THE TRUMPET PLAYER tells the story of a few dangerous days in the life of Miles Davis, the virtuoso, fighter and genius, as he bursts out of his silent period and conspires with a Rolling Stone writer (McGregor) to steal back his music.Cheadle will play Davis and will make his feature directorial debut from a script co-written with Steven Baigelman.BiFrost principal Daniel Wagner is financing and will produce the project along with Robert Ogden Barnum, Cheadle and Lenore Zerman for their Crescendo Productions banner, Darryl Porter, and Vince Wilburn Jr. Executive producers are Pamela Hirsch, Cheryl Davis, Erin Davis, Cassian Elwes and Baigelman. Herbie Hancock, a legend in his own right and close collaborator of Davis, will participate in the project as well. The project was packaged by UTA which arranged the financing and is representing U.S. rights. Leading international films sales company IM Global is handling international distribution and will be introducing the title at the upcoming American Film Market.Wagner commented, "Don is one of our generation's greatest actors, and this is the role he was born to play. His take on the conventional biopic of one of music's most celebrated icons is cinematic "jazz" and too unique to resist. It fits naturally with BiFrost's commitment to support talent and their passion projects, so we are thrilled to work with Don on his feature directorial debut."Cheadle is best known for roles in CRASH, Steven Soderbergh's OCEAN'S TWELVE and OCEAN'S THIRTEEN, as well as for his Academy Award-nominated performance as Best Actor in 2004's HOTEL RWANDA. He has most recently been seen as Colonel James Rhodes in IRON MAN 3 and as Marty Kaan in the Showtime series "House of Lies," for which he won a Golden Globe in 2013. Cheadle is represented by UTA.McGregor is best known for his roles in THE IMPOSSIBLE, GHOST WRITER, BEGINNERS, MOULIN ROUGE, TRAINSPOTTING and the STAR WARS franchise. McGregor was nominated for a Golden Globe last year for his work on the feature SALMON FISHING IN THE YEMEN. He will next be seen in the crime drama SON OF A GUN and he is currently shooting MORTDECAI opposite Johnny Depp and Gwyneth Paltrow. McGregor is represented by UTA, Sloane Offer and United Agents in the UK.BiFrost Pictures' current slate of projects include Paul Bettany's directorial debut SHELTER, with Jennifer Connelly and Anthony Mackie; THE GIRL WHO CONNED THE IVY LEAGUE, to be directed by Rob Epstein and Jeffrey Friedman and starring Amanda Seyfried; and the recently completed THE WORLD MADE STRAIGHT, directed by David Burris and starring Minka Kelly, Haley Joel Osment, and Noah Wyle and based on the award-winning novel by Ron Rash.