Dwayne Johnson Will Be Lost At Sea In 'Not Without Hope'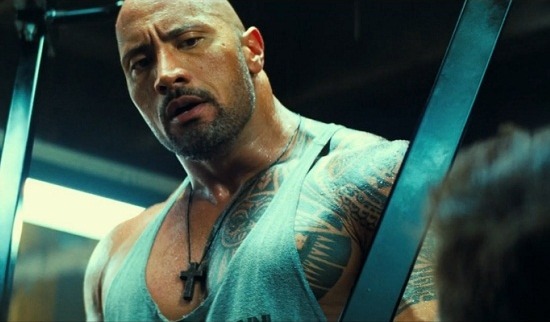 Are "lost at sea" pics the trend of the moment? Ang Lee won an Oscar earlier this year for stranding Suraj Sharma in the middle of the Pacific, and J.C. Chandor and Robert Redford put out All Is Lost just last month. Plus, even as we speak, Angelina Jolie is shooting the World War II survival drama Unbroken and Ron Howard is plowing on with the Moby Dick-inspired In the Heart of the Sea.
Now Dwayne Johnson is the latest to jump on the aimlessly floating bandwagon. The G.I. Joe star has signed on to star in Relativity's Not Without Hope, based on the real-life tale of four football players who get stuck at sea. Hit the jump for all the details.
When Schuyler was finally rescued by the Coast Guard 45 hours later, he was the only one of the original group still alive. Johnson will play Schuyler in the film. "I'm humbled that Relativity was interested in paying tribute to Marquis, Corey and Will, and I was impressed with their vision for the film and how they wanted to honor how these guys lived and loved their families, friends and teammates," said the real-life Schuyler.
No director or screenwriter has been anounced. Producers include Relativity CEO Ryan Kavanaugh, Relativity president Tucker Tooley, Johnson's manager/ex-wife Dany Garcia, and French/West/Vaughan chairman Rick French. Hiram Garcia will serve as co-executive producer and Brett Dahl is overseeing for the studio.
Johnson is enjoying a hugely successful moment in his career. He starred this year in Snitch, G.I. Joe: Retaliation, Pain & Gain, Fast & Furious 6, and the direct-to-DVD Empire State, and recently wrapped the Brett Ratner-directed epic Hercules. His other upcoming projects include Fast & Furious 7 and Journey 3.
Not Without Hope should give Johnson a chance to flex his acting muscles. While he's typically not thought of as a "serious" actor, he showed surprising depths as a conflicted kidnapper in Pain & Gain. Plus, he knows a thing or two about football culture, having played on the University of Miami team in the early '90s.