'Key & Peele' Duo Teaming With Judd Apatow For Universal Pictures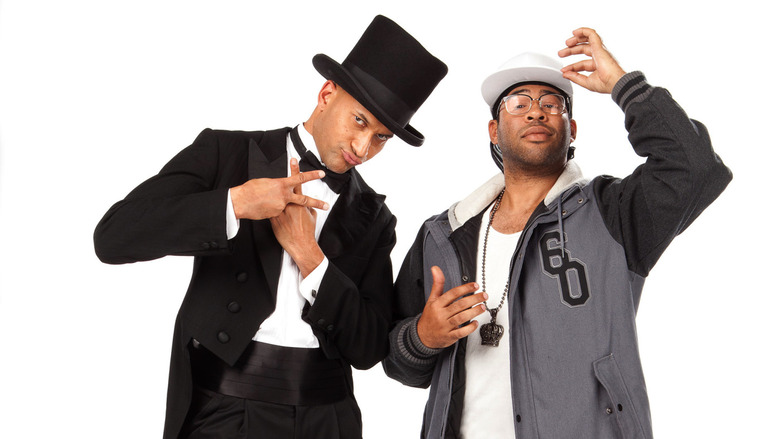 Keegan-Michael Key and Jordan Peele are experts at riffing on other people's movies for their Comedy Central show Key & Peele, whether they're playing valets obsessed with "Liam Neesons," satirizing Django Unchained's fight scenes, or singing over each other in homage to Les Mis. But soon, they'll get the chance to make a film of their own.
The comic pair are teaming up with comedy king Judd Apatow for a new comedy at Universal. Surprisingly, it'll mark only their second movie together. Hit the jump for more details on the new project.
Apatow expressed his excitement about working with the funny duo. "I love these guys because they are riotously, make you sick because you can't stop laughing, funny," he said. "I think Key and Peele are capable of making the movie that America desperately needs right now."
Key and Peele began working together professionally on MADtv in the '00s, before debuting their own Comedy Central series last year. Key & Peele, which is currently in its third season, and was recently renewed for a fourth season by Comedy Central.
Key's big-screen credits include Role Models, Due Date, Just Go With It, and Hell Baby, and he'll appear next year in Let's Be Cops with Jake Johnson and Damon Wayans Jr. as well as Kitchen Sink with Bob Odenkirk and Patton Oswalt.
Peele was in Little Fockers and has guest-starred on shows like Childrens Hospital and The Mindy Project. Additionally, the pair co-starred last year in David Wain's Wanderlust, which was also produced by Apatow.
Enjoy some Key & Peele highlights below, and share your favorite sketches in the comments.
Get More: Comedy Central,Funny Videos,Funny TV Shows
Get More: Comedy Central,Funny Videos,Funny TV Shows
Get More: Comedy Central,Funny Videos,Funny TV Shows