Universal Moves 'Warcraft' To A Galaxy Far, Far Away From 'Star Wars Episode VII' [Update]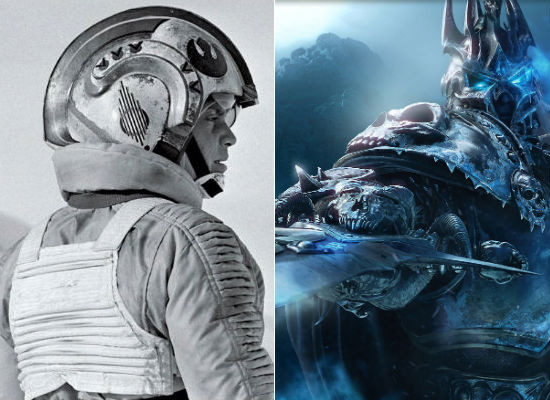 Update From Editor Peter Sciretta: The story below originally titled "When Is Universal Going to Move 'Warcraft' to a Galaxy Far, Far Away From 'Star Wars Episode VII?'" was written by Germain Lussier on November 13th 2013. Looks like we were able to predict this inevitability as Universal Pictures has announced today they are moving Warcraft from December 18, 2015, to March 11, 2016, out of the way of the evil Empire, Germain's original story follows after the jump.
When Disney finally decided on a release date for Star Wars Episode VII, every studio in Hollywood frantically looked at their release calendar. Had they scheduled anything for release near what's sure to be one of the biggest box office juggernauts of all time? Everyone breathed a sigh of relief, except one studio: Universal. It had already scheduled its own major sci-fi action film for December 18, 2015: Duncan Jones' Warcraft.
Sony also has a film scheduled for that date, the Ron Howard-directed, Tom Hanks film Inferno, but that's a more adult action-drama, and arguably counter-programming to Episode VII. Warcraft is not, however. That begs the question: when is Universal going to move Warcraft away from Star Wars Episode VII, if it is at all?
Now, Universal could always stick to its guns and hold the December 18 2015 release date. If we're all being honest, no matter what Bob Iger wants, J.J. Abrams tends to release movies later than originally planned. This happened on both Star Trek films. Those films, though, didn't have the merchandising and marketing importance of this one. Sticking would be a gamble, but if Star Wars moved, it could pay off. Late December is a prime release date for any film. Just ask James Cameron.
But is there any real chance Star Wars will move again, after being pushed into late 2015? Not if Disney can help it. December is probably all the leeway Abrams is going to get.
Moving Warcraft a few weeks earlier is also an option. As of now, early December 2015 is wide open with only one other release: Alvin and the Chipmunks 4. But by doing that you miss the Thanksgiving holiday, and eventually will get buried under Star Wars anyway. Plus, the late November films are beasts in their own right: The Hunger Games: Mockingjay, Part 2 on November 20 and Pixar's The Good Dinosaur on November 25. Those family films will have strong holdover power leading into December.
Then there's the option of a more radical move: early to Summer 2015 or later to Summer 2016. The former is already historically busy, and the latter is quickly filling up itself (already dated for summer 2016: Two Marvel Movies, Amazing Spider-Man 3, How to Train Your Dragon 3, Angry Birds and Independence Day 2). But the latter would give Jones a few extra months to finish the effects.
My prediction? Universal is going to wait and see. Jones starts production in the beginning of 2014 and there's no need to change the release date just yet. Once they see footage and see how quickly Jones works, they'll likely make a decision based on the quality of the film. If it's looking like a classic, maybe they take Star Wars or Hunger Games on. If it's not coming together, maybe it gets moved to February. But, eventually, the film will move. I have forseen it.
What would you do if you were Universal?