'Divergent' Trailer And Poster: Shailene Woodley Gathers Her Courage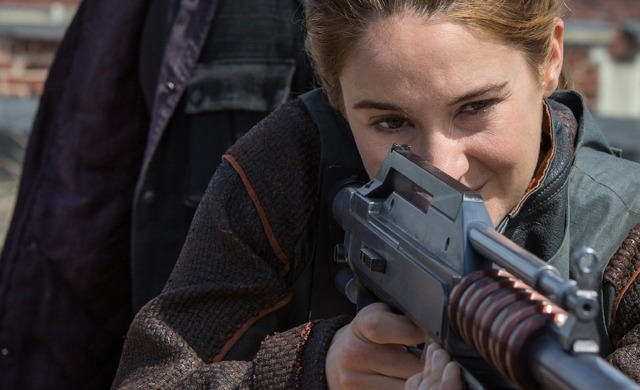 2011's The Descendants brought widespread acclaim to Shailene Woodley, and this year's The Spectacular Now earned her still more compliments. But it's next year's Divergent that really has the potential to make her a household name a la Jennifer Lawrence, Kristen Stewart, or Daniel Radcliffe.
Based on the dystopian YA novel (boy, am I getting tired of typing that phrase) by Veronica Roth, Divergent is set in a futuristic Chicago in which all citizens are aligned with one of five factions depending on their personalities. Upon coming of age, Tris (Woodley) learns that she is Divergent, meaning she won't truly fit into any of those categories. Needless to say, this does not sit well in a society built on tidy divisions. Hit the jump to watch the latest trailer.
To go with the new trailer is a new poster of Tris and Four (Theo James) looking over the ruins of Chicago. See it below, along with character posters for all of the main characters: Tris, Four, Christina (Zoe Kravitz), Peter (Miles Teller), Tori (Maggie Q), Eric (Jai Courtney), and Max (Mekhi Phifer). All of them were originally posted on Facebook.
We've seen some ads for Divergent already, but thise new promo is crammed full of footage we haven't seen yet. And all of it adds up to a much better trailer, in my opinion. While the first full-length trailer felt like a generic mishmash of YA tropes, this one does a better job of highlighting Woodley's wonderfully open, appealing presence. What do you think?
Directed by Neil Burger, Divergent opens March 21, 2014.
In a future world where people are divided into distinct factions based on their personalities, Tris Prior is warned she is Divergent and will never fit into any one group. When she discovers a conspiracy to destroy all Divergents, she must find out what makes being Divergent so dangerous before it's too late.