Kellan Lutz And The Rock Battle As Hercules Films Become 2014's White House Thrillers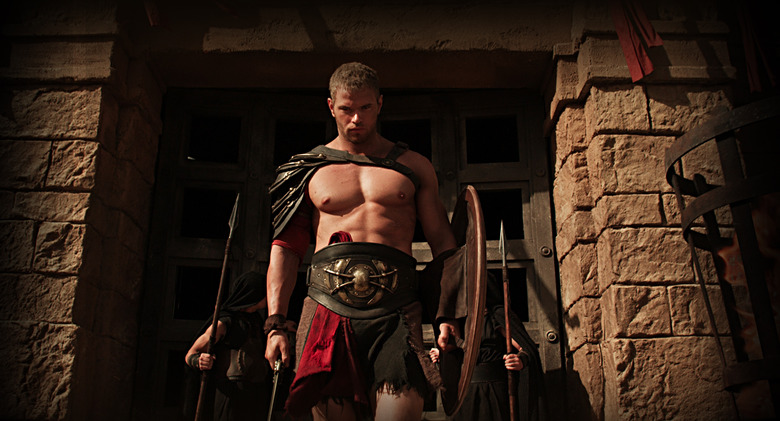 In 2013, the action film battle royale was between two competing White House thrillers, Olympus Has Fallen and White House Down. The former film, seen as the scrappy contender, hit theaters three months before Sony and Roland Emmerich's supposedly bigger movie. But the contender ended up winning the battle, with a sequel already set to re-team its cast and director. White House Down, meanwhile, is going to walk out of 2013 seen as an underperformer.
Now Lionsgate is going to see if the same pattern can work twice, as it has purchased distribution rights to Renny Harlin's Hercules: The Legend Begins, starring Kellan Lutz. The film will be in theaters five months before Brett Ratner's own Hercules, starring The Rock. Which strongman will end up on top?
Variety reports that the contender, Hercules: The Legend Begins, is now set for release on February 7. Paramount, meanwhile, will release the more expensive Hercules on July 25.
What's the story with each movie? Daniel Gliat wrote and Renny Harlin directed Hercules: The Legend Begins, which has the following synopsis:
In Ancient Greece 1200 B.C., a queen succumbs to the lust of Zeus to bear a son promised to overthrow the tyrannical rule of the king and restore peace to a land in hardship. But this prince, Hercules, knows nothing of his real identity or his destiny. He desires only one thing: the love of Hebe, Princess of Crete, who has been promised to his own brother. When Hercules learns of his greater purpose, he must choose: to flee with his true love or to fulfill his destiny and become the true hero of his time. The story behind one of the greatest myths is revealed in this action-packed epic – a tale of love, sacrifice and the strength of the human spirit.
The film also stars Gaia Weiss, Scott Adkins, Liam Garrigan, Johnathon Schaech, Roxanne McKee and Rade Serbedzija. Here's the trailer.
Ratner's film, currently called just Hercules, is based on the graphic novel Hercules: The Thracian Wars, and has this story:
Centuries ago, a tormented Demigod walked the earth: Hercules was the powerful son of the god king Zeus. For this, he received nothing but suffering his entire life. After twelve arduous labors and the loss of his family, the dark and world-weary soul turned his back on the gods, finding his only solace in combat. Over the years, he warmed to the company of six similar friends, their only bond being their love of fighting and presence of death. These men and women never questioned where they would go to fight or why or whom, just how much they would be paid – until the King of Thrace hired them to train his men to become the greatest army of all time. It was time for the group of lost souls to finally have their eyes opened to how far they have fallen, when they must train an army to become as ruthless and bloodthirsty as their reputation has become.
It also stars Joseph Fiennes, Ian McShane, Rufus Sewell, Ian McShane, Rufus Sewell, Rebecca Ferguson, Aksel Hennie and John Hurt. There's no trailer yet, and probably won't be for a while.