Sequel Bits: No Taking In 'Taken 3,' Plus Phil Tippett And 'Transformers 4'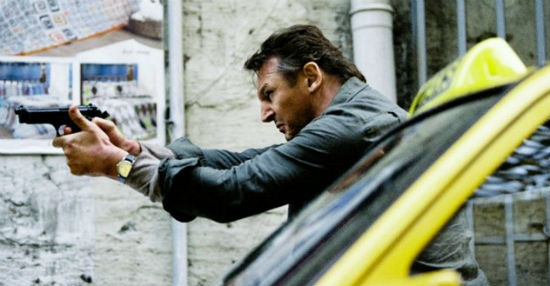 In case you missed it stated over the past couple years, or recently embedded in the report of Forest Whitaker joining the cast of Taken 3, Liam Neeson has explained that the plot of this threequel deviates from established pattern: "no one gets taken" this time. More of that quote after the break, along with the following:
Phil Tippett talks about going back to work in Jurassic Park,
Reno Wilson says he's voicing a Transformers 4 character,
The Hot Tub Time Machine sequel has a release date,
and Bob Uecker says Major League VI is still coming together.
Neeson didn't give up any more details, perhaps having been well-conditioned by the Christopher Nolan PR machine. Luc Besson and Robert Mark Kamen scripted the film, and we know that Maggie Grace, playing Neeson's daughter, will also be back for a third turn. Kamen had actually explained this "no taking" policy for the third film back in 2012: "We've taken everyone we can take — it's going to go in another direction."
The name Phil Tippett should need no introduction, and over the weekend he was honored at the Annies for his career in stop-motion animation and effects. Tippet is putting together a feature called Mad God, funded via Kickstarter, but he is also poised to do some big-budget work for the fourth Jurassic Park film.
When asked about his upcoming work on Jurassic World, he told THR,
I've been out of the dinosaur business for a while, but my company did an app with a company called Efexio that helps users create creatures. It was a prologue to getting asked to join Jurassic World. My studio and ILM are going to partner up. The way [ILM chief creative officer] John Knoll pitched it to me was, "getting the old band back together."
And what about working on Star Wars Episode VII? Seems like that isn't close to being set, or Tippett isn't willing to talk about it yet: "I talked to [Luscasfilm president] Kathleen Kennedy about it, but first will be Jurassic World, then we'll see where they're at."
That sequel to Hot Tub Time Machine will hit on Christmas Day this year, as Paramount puts the MGM sequel in theaters as a gift to those who want to see more antics from Rob Corddry, Craig Robinson, and Clark Duke. Steve Pink directed; Josh Heald scripted. In the sequel, Lou (Corddry) gets into a tight spot, leading friends Nick (Robinson) and Jacob (Duke) to use the hot tub in an attempt to turn back the clock and sort the situation out. But in a giant twist on the formula, they end up in the future, and have to fix the past (or the present?) from there. OK, maybe it isn't a huge twist. [Deadline]
Reno Wilson has voiced three characters in Michael Bay's Transformers series so far (Frenzy, Mudflap and Brains) and recently tweeted that he's doing more work on the fourth film, suggesting that his most recent character, Brains, might be returning. The tweet has since been deleted, but it said, "Just finished a v.o. session for Michael Bay, who is a genius! Each one better than the last!#Transformers4 #Brains" [via TFW2005]Finally, former player, current announcer and occasional movie talent Bob Uecker told Fox Sports that there's still an effort to make Major League IV:
I'll be honest with you, they're talking about it. The storyline is all set, too. They've already asked me if I would be in for 'Major League IV,' and I told them I would. I've talked to the directors. They're talking about it and they're pretty serious, but that's all I can tell you, really. If there was more, I would tell you that, too. They have been talking about it for the last year-plus. As a matter of fact, they called me during the season last year and asked me if I would be in.
His best comment, however, is reserved for the third film in the series:
'Major League III' stunk, so 'Major League IV' I'm sure is going to be better than 'Major League III,' which they sold to a different company. That thing was on airplanes the day after we finished it.