As You Wish: Disney Adapting 'The Princess Bride' For The Stage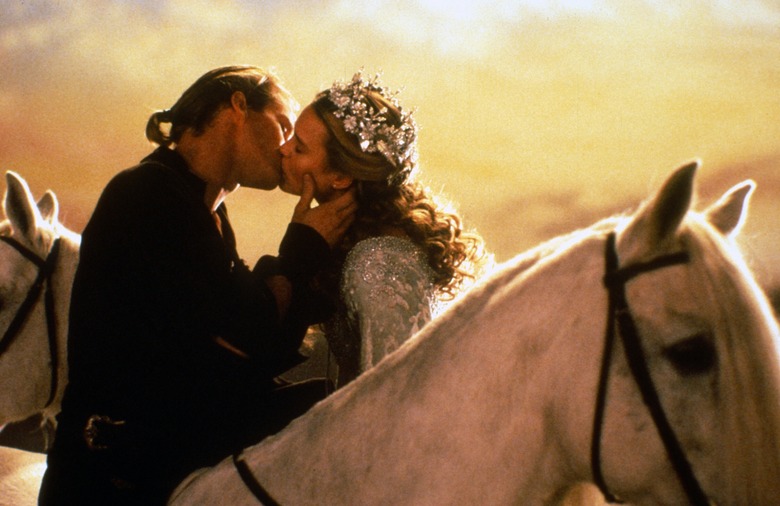 Buttercup and Wesley's epic romance took them from an idyllic farm to a castle, a torture chamber, the high seas, and the Fire Swamp. Now it's also bringing them to the theater.
Disney Theatrical Productions is working on a stage adaptation of The Princess Bride, with Alan Horn shepherding for the studio. William Goldman, who wrote the 1973 novel on which Rob Reiner's 1987 film was based, will collaborate. Hit the jump for more details.
My involvement in The Princess Bride goes back to 1987 and it has always been close to my heart. For all those years and a few more, I've been friends with the brilliant Bill Goldman, and to now have a stage production of this film in development at Disney is honestly a dream come true. It couldn't be in better hands than those of the experienced Disney Theatrical team led by Tom Schumacher.
The new show, announced by Disney this week, is not connected to a prior attempt to turn the fairy tale into a stage musical. Those plans, which involved Goldman and Tony-winning composer Adam Guettel, were scrapped in 2007 over money issues, and no material from that version will be used in Disney's new version.
Godman's genre-bending fantasy-romcom-adventure centers on the "twoo wuv" between beautiful Buttercup (played by Robin Wright in the movie) and handsome farm boy Westley (Cary Elwes). She reluctantly becomes engaged to nasty Prince Humperdinck (Chris Sarandon), only to be kidnapped before her wedding. Mandy Patinkin, Wallace Shawn, André the Giant, Billy Crystal, and Christopher Guest also starred.
It is unclear at this time whether Disney's upcoming production will be a play or a musical. Personally, I think The Princess Bride seems like a natural fit for the latter — it's sweet and funny, with plenty of big moments that'd translate easily into splashy song-and-dance numbers. Either way, it may be some time before a decision is announced. No production timeline has been announced for this new version, which is one of several stage productions in the works at Disney.