'Girls' Star Adam Driver Eyed For Nightwing In 'Batman Vs. Superman'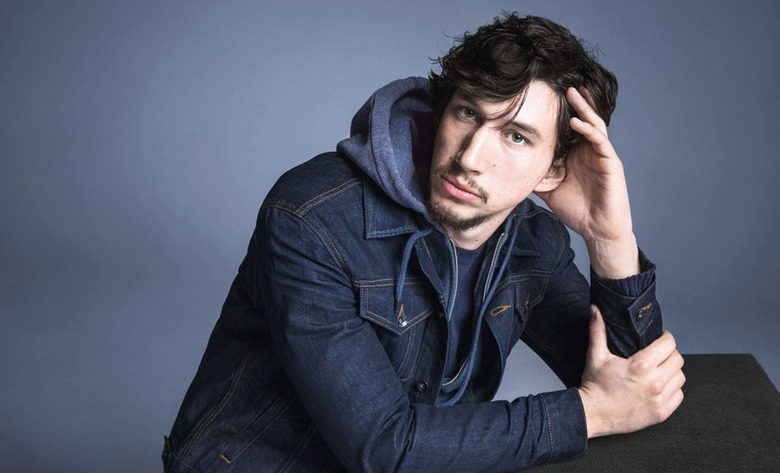 Hannah Hovarth's knight in shining armor could become a bona fide superhero. Girls star Adam Driver is reportedly the frontrunner to play Dick Grayson a.k.a. Nightwing in Batman vs. Superman, which stars Ben Affleck and Henry Cavill as the titular superheroes. Meanwhile, other actors rumored to be in contention are Ezra Miller (The Perks of Being a Wallflower) and Penn Badgley (Gossip Girl). Hit the jump for more details on the character and the possible casting.
TheWrap broke the news about Driver's potential new gig. They add that "at least two others may be in the mix" for the part without naming names, but Superhero Movie News claims that Miller and Badgley are the other guys being eyed. As always, these early casting reports should be taken with a big grain of salt. TheWrap is trustworthy, but just because Driver's the favorite doesn't mean he'll actually clinch the deal. And we don't know much about Superhero Movie News, so for all we know the talk about Miller and Badgley could be about as substantial as a puff of smoke.
While Warner Bros. is being cagey about the plot details of Batman vs. Superman, the unconfirmed word is this Dick Grayson will be a former sidekick of Batman's who's been estranged from the Caped Crusader for years. That's just a rumor at this point (as Latino Review, who first got that scoop, readily acknowledges), but Driver does fit into the alleged description of the character as "a young John Hawkes." Miller and Badgley aren't far from the type either.
Although Driver's weirdo artist character on Girls makes him seem like an odd fit for a big-budget superhero flick, he actually has some real life hero experience, having served in the Marines. The studio reportedly fell for him when he worked with them on This Is Where I Leave You, a dysfunctional family comedy directed by Shawn Levy. That film also stars Tina Fey, Jason Bateman, Corey Stoll, and James Fonda.
Since his big Girls breakout, Driver has been all over the place. His recent appearances include supporting parts in Noah Baumbach's Frances Ha, Steven Spielberg's Lincoln, and the Coen Brothers' Inside Llewyn Davis. Among his upcoming gigs are John Curran's Tracks with Mia Wasikowska, the romcom The F Word with Daniel Radcliffe and Zoe Kazan, and Baumbach's While We're Young.
Miller is best known for starring in We Need to Talk About Kevin and The Perks of Being a Wallflower, and next appears in Madame Bovary. Badgley's recent non-Gossip Girl jobs include Easy A, Margin Call, and the upcoming Shakespeare adaptation Cymbeline.
Batman vs. Superman opens July 17, 2015.