'RoboCop' Trailer: "Why Is America So Robo-Phobic?"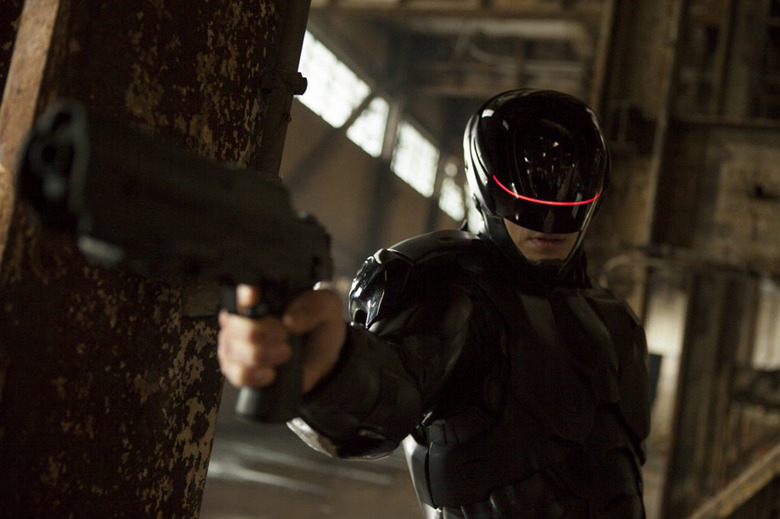 Director Jose Padilha seems to know that some people are looking at his remake of RoboCop with a jaundiced eye, and so he introduces the new trailer for the film with some of the same explanation that he offered at Comic Con.
In fact, this is a version of the reel that was shown at Comic Con this past summer, starting with drones patrolling the Middle East and Samuel L. Jackson's character railing against the fact that similar tactics are not being used to police the streets at home. That's where OCP chairman Michael Keaton steps in, with a plan to "put a man inside a machine." And thus, the new RoboCop is born. Of all the remakes we've seen of well-known properties, this one looks like it has the most potential to blend the original ideas with new concepts that give it a unique personality.
Check out the trailer below.
RoboCop opens on February 12, 2014.
In RoboCop, the year is 2028 and multinational conglomerate OmniCorp is at the center of robot technology. Overseas, their drones have been used by the military for years – and it's meant billions for OmniCorp's bottom line. Now OmniCorp wants to bring their controversial technology to the home front, and they see a golden opportunity to do it. When Alex Murphy (Joel Kinnaman) – a loving husband, father and good cop doing his best to stem the tide of crime and corruption in Detroit – is critically injured in the line of duty, OmniCorp sees their chance for a part-man, part-robot police officer. OmniCorp envisions a RoboCop in every city and even more billions for their shareholders, but they never counted on one thing: there is still a man inside the machine pursuing justice.