Watch Martin Scorsese's Perfume Ad Starring Scarlett Johansson And Matthew McConaughey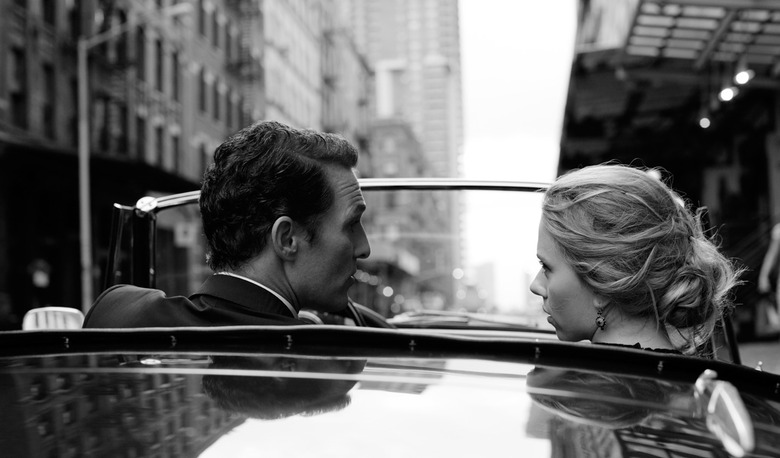 The Wolf of Wall Street was recently pushed from November 15 to December 25, which means moviegoers will have to wait a few weeks longer to see how exactly Leonardo DiCaprio ends up inviting a half-naked marching band into his office. Thankfully, Martin Scorsese has offered up another tidbit for us to enjoy in the meantime. And it even stars Wolf's Matthew McConaughey.
Dolce & Gabbana hired the master filmmaker to shoot a new commercial for its The One fragrance line, for which McConaughey and Scarlett Johansson serve as the spokesmodels. There isn't a whole lot to it, but if you've got a few minutes to kill, you could certainly do worse than watching two beautiful folks zip around Manhattan as Scorsese makes them look impossibly glamorous. Check it out after the jump.
Street of dreams is an epic story of the power of love and the power of dreams. This is a story of unbridled emotion. A story of Italy; of Hollywood; and of the world. Its classic cinematic style evokes both the grandeur of the golden years of Hollywood, and the passion and emotion of Europe's greatest cinema icons. Scorsese's campaign tells a tale of timeless glamour through its two protagonists, Matthew McConaughey and Scarlett Johansson. United for the first time in a Dolce&Gabbana Fragrance campaign, their intensity is unmistakable as they come together on the streets of New York. It is a celebration of passion, of beauty, and of being unique.
While Scorsese's feature films aren't really known for their brevity, the director apparently has no problem with shorter-form commercial work. He directed Gaspard Ulliel in an spot for Bleu de Chanel a few years back (see it below), and has appeared in commercials for American Express and Siri.